China: Free The Five
When China agreed to host the 2022 Olympic and Paralympic Winter Games, the authorities promised that these Olympics would be accompanied by human rights improvements. Not only did this not happen, but the human rights situation in China deteriorated and has continued to worsen sharply during the past decade.
Among the many human rights violations committed by the Chinese authorities, their systematic violation of the right to freedom of expression demands specific attention in the Olympic context. While hosting a mega sports event aiming to celebrate international exchange and mutual understanding, the Chinese government is implementing an immense system of massive censorship and crushing control over what people can say and see. China should not be allowed to use the Olympics to sportswash its human rights record.
These Winter Olympics, Amnesty is highlighting five individuals who have been imprisoned, otherwise detained or disappeared for exercising their human right to freedom of expression. These individuals all belong to communities that have been particularly harshly targeted in the Chinese government's continuing assault on freedom of expression and related human rights. We are calling for their immediate release and an end to the harassment and persecution of all those peacefully exercising their rights.
Citizen journalist Zhang Zhan, sentenced to four years imprisonment for reporting the Covid-19 reality in China.
Uyghur academic Ilham Tohti, sentenced to life in prison for suggesting constructive approaches to overcome unequal treatment of ethnic groups in China.
Human rights defender Li Qiaochu, detained for reporting torture committed by the Chinese authorities.
Lawyer and former prisoner of conscience Gao Zhisheng, disappeared in 2017, shortly after publishing his memoirs of the years he was detained and tortured by the Chinese authorities.
Tibetan monk Rinchen Tsultrim, sentenced to four and a half years imprisonment for expressing his political views online.
What You Can Do
Take Action! Sign and promote our action to Free the Five and Champion Freedom of Expression in China.
Share the action wherever you see the Winter Olympics being discussed on social media.
Continue to sign and promote the Write for Rights petition on the case of Zhang Zhan until the end of January 2022.
Share the images highlighting each case on social media, using the hashtags #FreeTheFive and #Beijing2022 and tagging @AmnestyCanada on Facebook and Instagram or @AmnestyNow on Twitter.
Join the Global Day of Action on January 26: Light a flame for freedom of expression in China (co-hosted by Amnesty Norway and Amnesty Denmark).
Learn more about the campaign, including Amnesty's recommendations to the International Olympic Committee.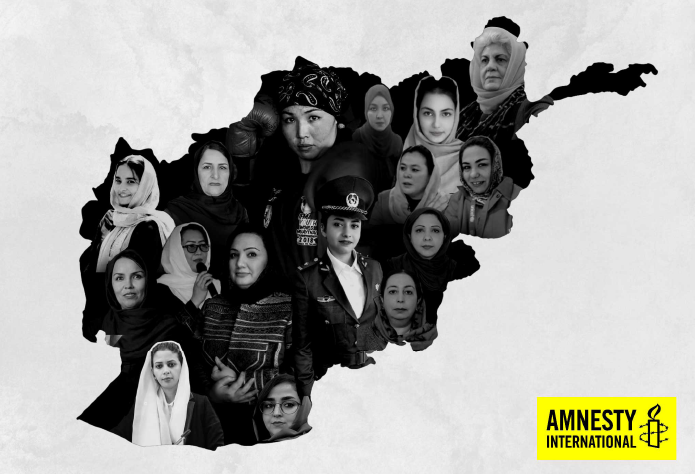 Protect Women Human Rights Defenders in Afghanistan
The Taliban's seizure of power in Afghanistan on August 15, 2021 has resulted in sweeping changes to the lives of all Afghans, but Afghan women and girls face particularly dire restrictions on their rights in their daily lives. In addition to losing their access to education and employment, women now face increased threats of gender-based violence, and severe restrictions on their rights to freedom of movement, freedom of assembly and expression including their choice of clothing.
What You Can Do
Learn more about 16 WHRDs in Afghanistan and share their stories on social media using the hashtag #StandUpForAfghanWomen.
Sign and share the petition calling on the international community to:
Use available leverage during negotiations with the Taliban authorities to address women and girls' rights as a non- negotiable issue. 
Engage with women human rights defenders and activists from Afghanistan to understand the ground realities and work with them to support women's rights in Afghanistan.   
Allocate funds for the implementation of programmes and projects on advancement of women's rights in Afghanistan.
Use our toolkit to find more ways to act in solidarity.
Register for our webinar on The Future of Women's Rights in Afghanistan. The webinar is at 4:30 AM EST on March 7th, 2022, but if you register, you will be sent a recording.
Anniversaries and Individuals at Risk
Guantánamo at 20
Twenty years after its establishment at an offshore military detention facility on January 11, 2002, Guantánamo continues to hold 39 Muslim men in blatant perpetuation of Islamophobia and racism. None of the men detained have received a fair trial and they continue to be detained indefinitely in violation of due process of law and other internationally recognized human rights.
Read the Op-ed by international SG Agnes Callamard.
Promote the youth poster contest. An artist formerly detained in Guantanamo is one of the judges, and there is a $1,000 USD prize!
Watch and share the recording of the anniversary virtual rally.
Test your knowledge and share the new quiz about Guantanamo.
Use the hashtag #CloseGuantanamo on social media.
Russia: Aleksei Navalny one year on
Sign and share the global petition calling for the release of Aleksei Navalny.
January 17, 2022, marks the first anniversary of the detention of leading Russian opposition activist and anti-corruption campaigner Aleksei Navalny as he returned from treatment in Germany after his near-lethal poisoning in August 2020.
Follow @AmnestyNow and @AmnestySecurity on Twitter and @AmnestyCanada on Facebook and IG to participate in a short social media campaign staring on or around January 17. Watch for the hashtag #FreeNavalny.

Stay Tuned
During the #100DayCountdown for Vaccine Equity, Amnesty supporters in Canada sent almost 40,000 messages to big pharma companies calling on them to do their part to ensure the World Health Organization target of vaccinating at least 40% of all countries' populations by the end of 2021 was met. Sadly the international community fell short of this goal, which has be re-set at 70% by the end of 2022. Stay tuned for a new briefing towards the end of January and the next phase of this campaign.
For more information: contact Hilary Homes, Crisis and Tactical Advisor (hhomes@amnesty.ca)