Around the world, Earth Day is celebrated on April 22, a day to show support for protection of our beautiful blue planet and all life on it.
Amid the urgency of the climate crisis, it's clear that action is needed every day to protect the environment on which our shared future depends.
It's a matter of human rights – arguably the most pressing one we collectively face. The right to water, food, health, housing, livelihoods, safety, and life itself for millions of people is threatened by extreme heat, wildfires and drought in some regions, while millions of others suffer equally devastating storms and flooding of unprecedented proportions.
This has a disproportionate impact on Indigenous, Black and other racialized communities in Canada and around the world.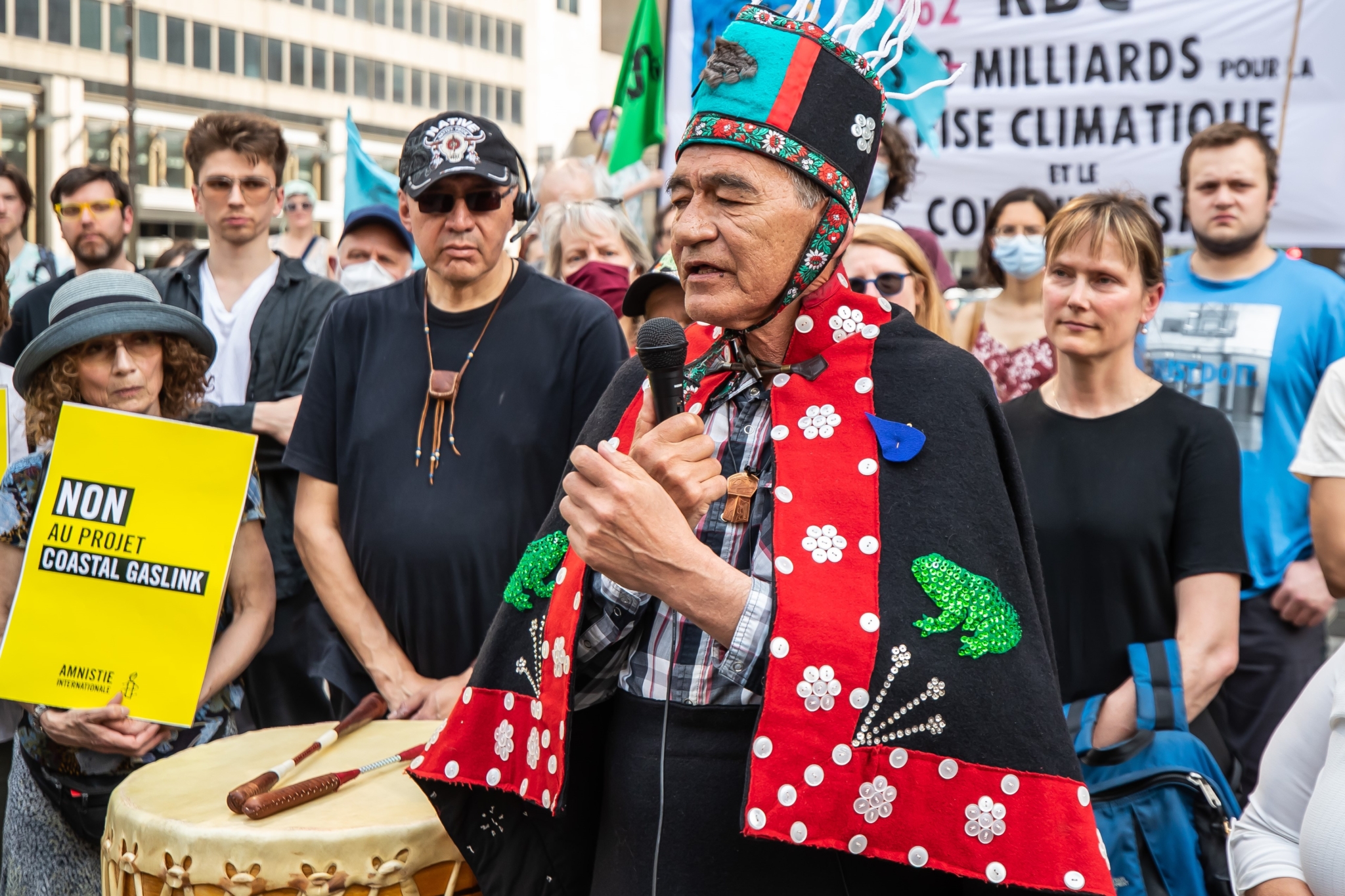 It's no wonder that these communities are leading the way, organizing and speaking up for what is needed to protect lands, water, forests, clean air and climate justice. It's also no wonder that this puts them on a collision course with powerful companies, authorities, and economic interests who continue to put short term profits before human rights. For example, in Wet'suwet'en territory in northern British Columbia, Indigenous people continue to face surveillance, harassment, intimidation and criminalization as they confront threats to their lands, water and rights posed by construction of the Coastal GasLink pipeline.
From Wet'suwet'en territory to Central America and beyond, defenders of lands and water are literally under attack.
Our solidarity action with them couldn't be more important, along with action to confront policies that support fossil fuels and resource extraction at the expense of people and the environment!
TAKE ACTION
Learn More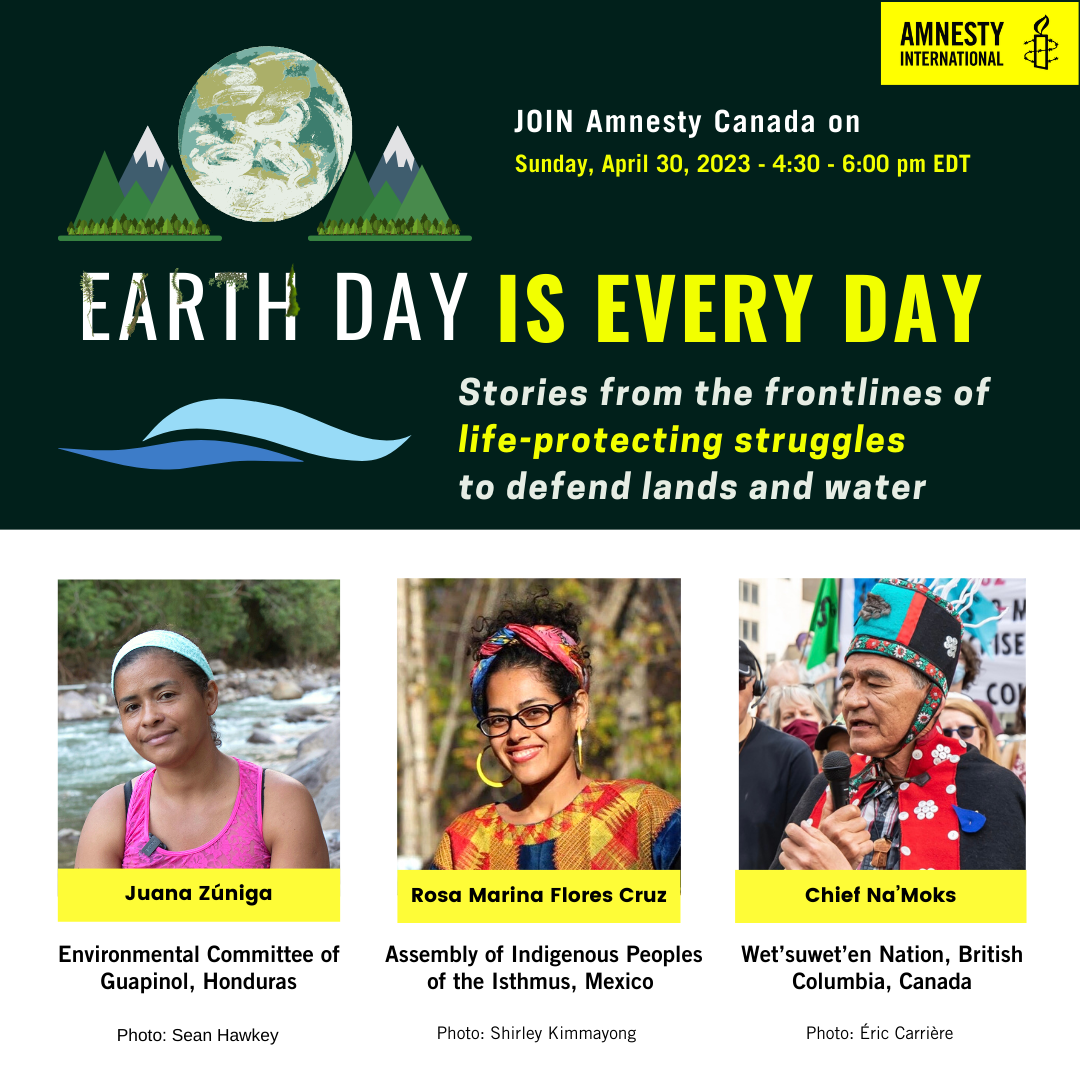 On April 30, we organized a webinar to hear from inspiring defenders on the frontlines of dangerous struggles to protect land, water, rights and climate justice across the Americas. They included Juana Zúniga, a threatened defender of the Guapinol River in Honduras; Afro-Zapoteca defender Marina Flores Cruz of the Assembly of Indigenous Peoples of the Isthmus in Defense of Land and Territory in Oaxaca, Mexico and Chief Na'moks of the Wet'suwet'en Nation, criminalized for efforts to stop construction of the Coastal GasLink pipeline.
Watch a recording of the webinar in English here. The Spanish language version is here.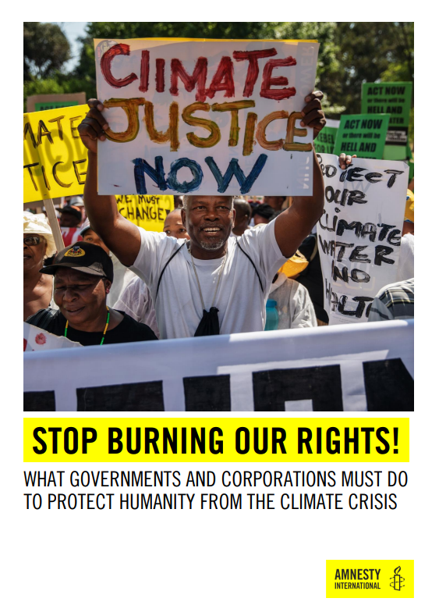 Want to learn more about Amnesty's position on climate change and the analysis driving our calls to authorities? Read:
Stop Fossil Fuel Proliferation: E-action and Letter-writing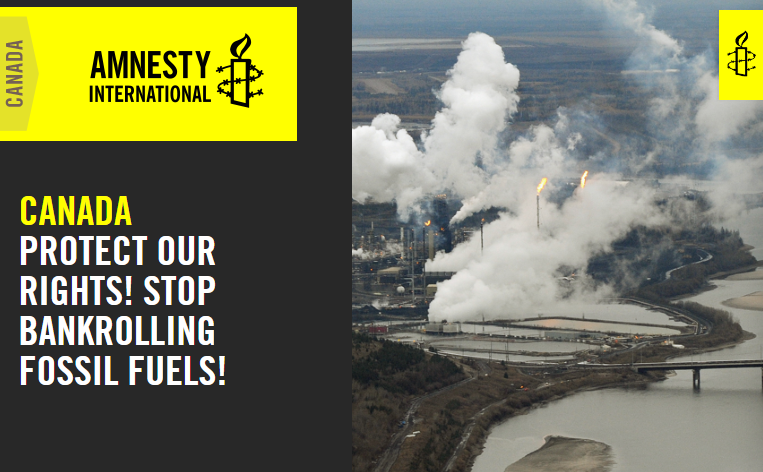 The role of fossil fuels in the climate crisis is indisputable. Yet Canada continues to be the second largest provider of public finance for fossil fuels in the G20. Canada's export bank continues to direct billions of dollars in loans, insurance and other support to climate destructive fossil fuel activity in Canada and other countries.
Click here to call on Canadian decision makers to stop bankrolling fossil fuel proliferation.
Already signed the action? Help multiply our impact by encouraging friends and family to sign too! More signatures tell the government this is an action they cannot ignore.
Write a letter to Export Development Canada
Ask for answers to pointed questions? Note: if you put a question in your letter, EDC must publish it on their website, along with their response.
Send your letter to: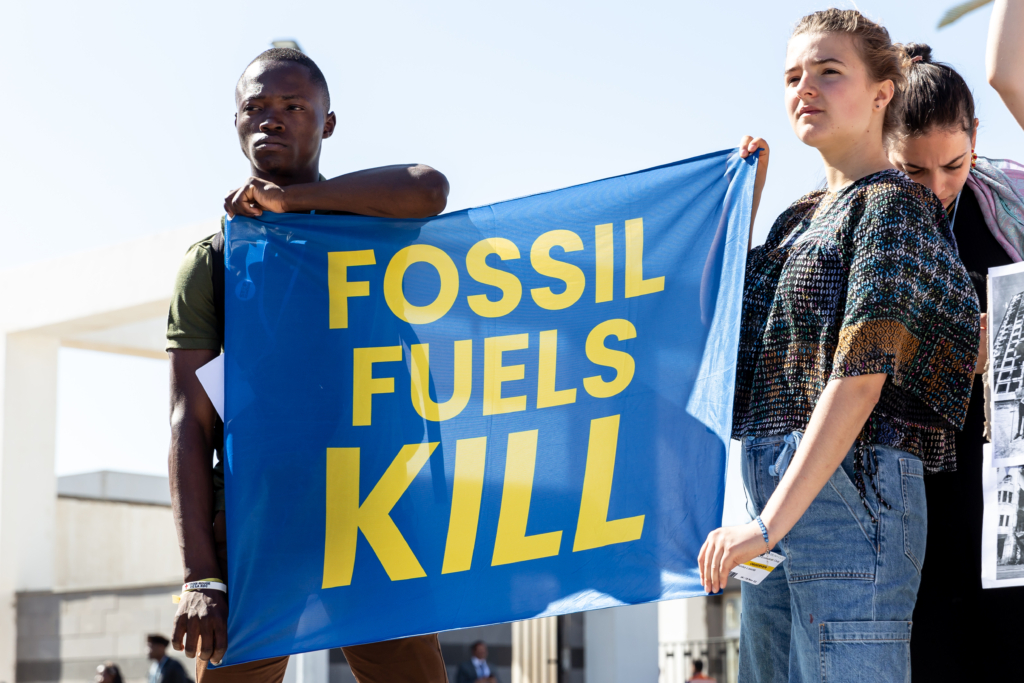 Defend the Defenders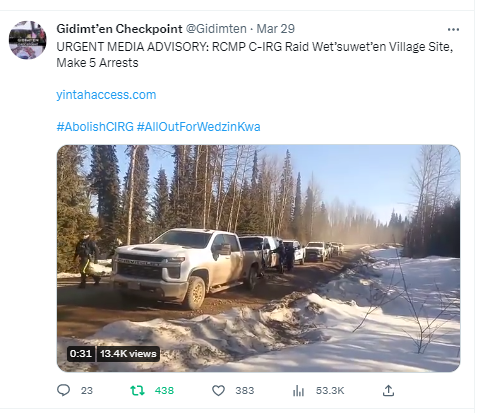 The RCMP raided Wet'suwet'en territory on March 29, less than three weeks after the UN Special Rapporteur on the rights of Indigenous Peoples expressed concern about criminalisation of Wet'suwet'en land defenders during his visit to Canada. The RCMP arrested five land and water defenders who oppose the ongoing construction of the Coastal GasLink pipeline on Wet'suwet'en territory. The March 29 raid is the latest act in a longstanding campaign of violence, intimidation and dispossession against Indigenous land defenders. Read more in our news release. Listen to Chief Na'moks of the Wet'suwet'en Nation here.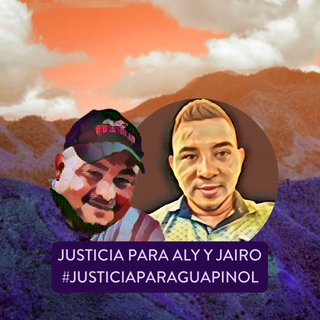 Community members in Tocoa, Honduras face death threats and surveillance by cars with no plates as they continue to defend the Guapinol River and seek cancellation of an iron ore extraction and processing operation beside the river, an important source of water for the community. Two members of the community's environmental defence committee were killed in January. Learn more about this urgent situation at our webinar on April 30, when Juana Zúniga will join us to share the view from the ground in Guapinol.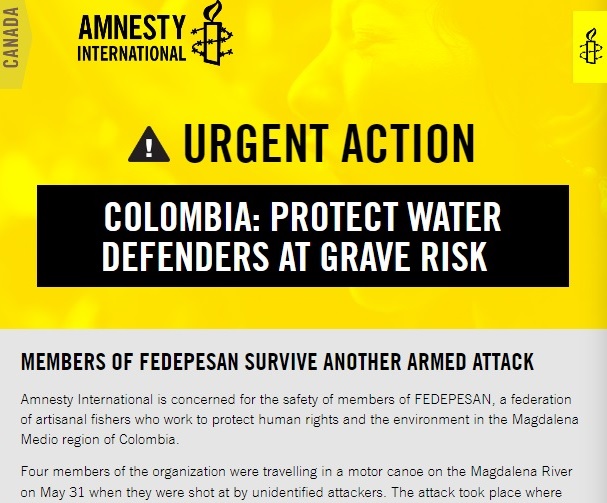 Water defenders like Yuli Velásquez and Yuvelis Morales have also come under attack for their efforts to stop fracking and its impact on the environment in the Magdalena Medio region of Colombia. According to a new report by Front Line Defenders, almost half of human rights defenders killed last year were in Colombia. Environmental & Indigenous rights defenders were disproportionately targeted. According to Indepaz, 36 rights defenders have been killed in Colombia so far this year.
Social Media
Social media is an important way to show solidarity with defenders and demand that authorities respect and protect their rights.
Solidarity with WeT'Suwet'en Land and Water DEFENDERS
The continued harassment, intimidation and criminalisation of #Wetsuweten land and water defenders must end @JustinTrudeau @marcomendicino @Dave_Eby #WetsuwetenStrong #AllOutForWedzinKwa
SOLIDARITY WITH GUAPINOL RIVER DEFENDERS
Solidarity from Canada with threatened water defenders of @guapinolre. @MP_Honduras @ofchb stop criminalizing them, bring the killers of Aly Domínguez Ramos & Jairo Bonilla Ayala to justice and protect others at risk. #JusticiaParaGuapinol #VoicesAtRisk @CanEmbCRHNNI
Make your social media post more personalized and eye-catching by making a sign that communicates your solidarity with threatened Guapinol water defenders. Take a photo of yourself – or your group – holding the sign beside water that is important to you. Then post your photo on social media with a message similar to the one in the tweet below, which tags both authorities in Honduras and the defenders' organization @guapinolre.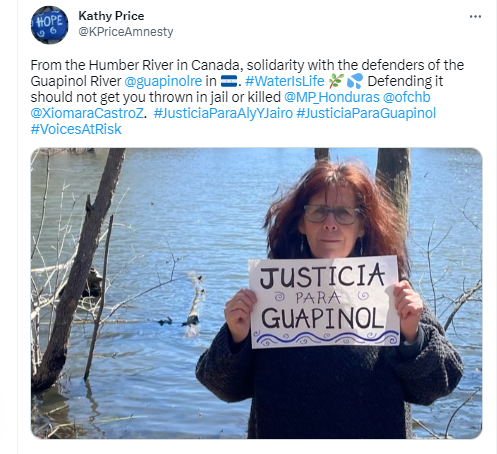 Tabling, Postering and Public Events
Join events in your community – or create your own to make visible your calls for climate justice, protection of the right to a healthy environment for all, and protection of threatened earth defenders.
Download and print a petition calling on Canada to stop bankrolling fossil fuels. This campaign is a top priority! Also download petitions in solidarity with land and water defenders in Wet'suwet'en territory, defenders of the Guapinol River in Honduras and water defenders in Colombia. Gather signatures at tabling events. Then send them back to the address at the bottom of the petitions.
Create colourful signs to carry at public events or to put up in public places. Get inspired by the signs in the photos below!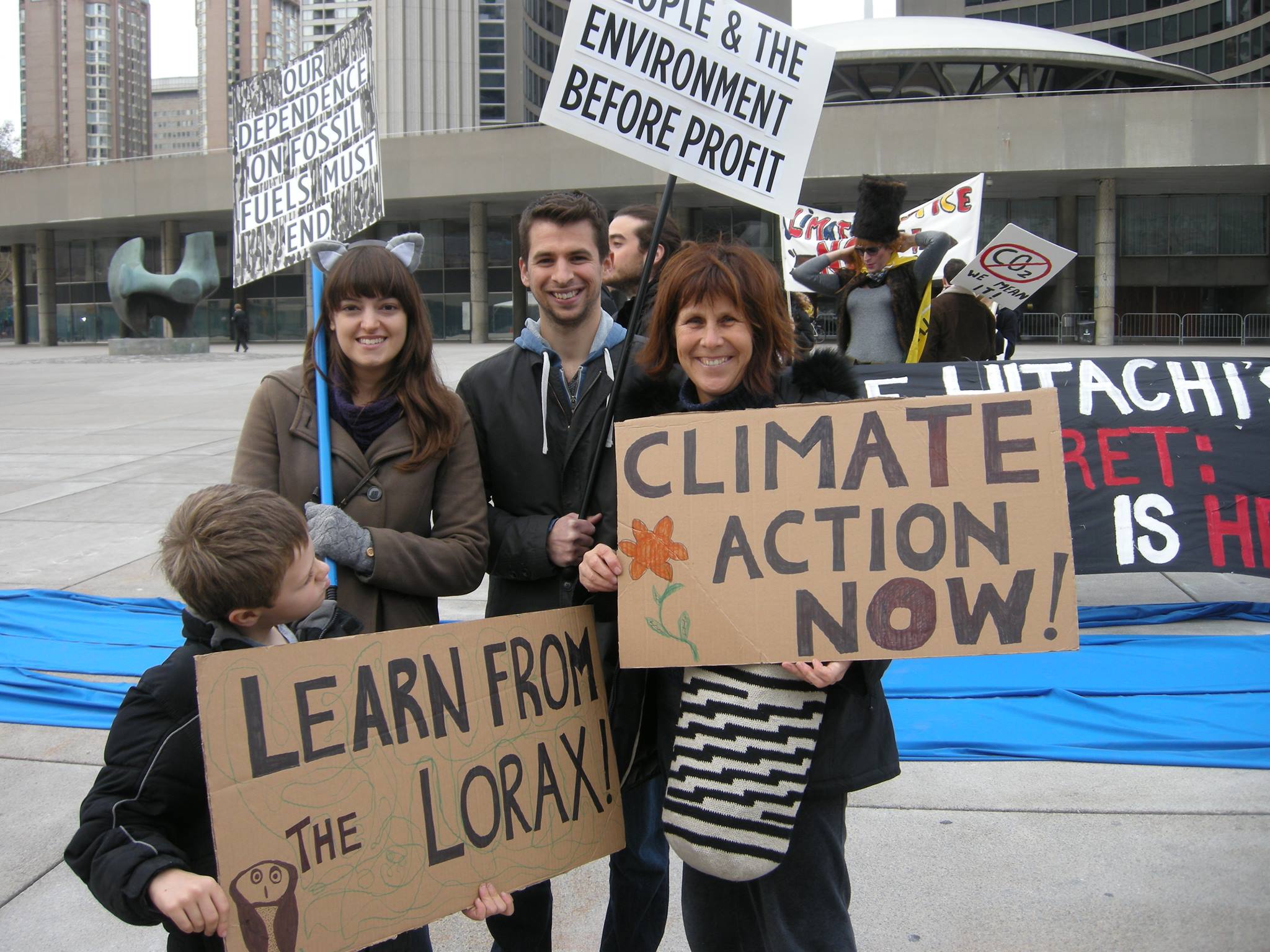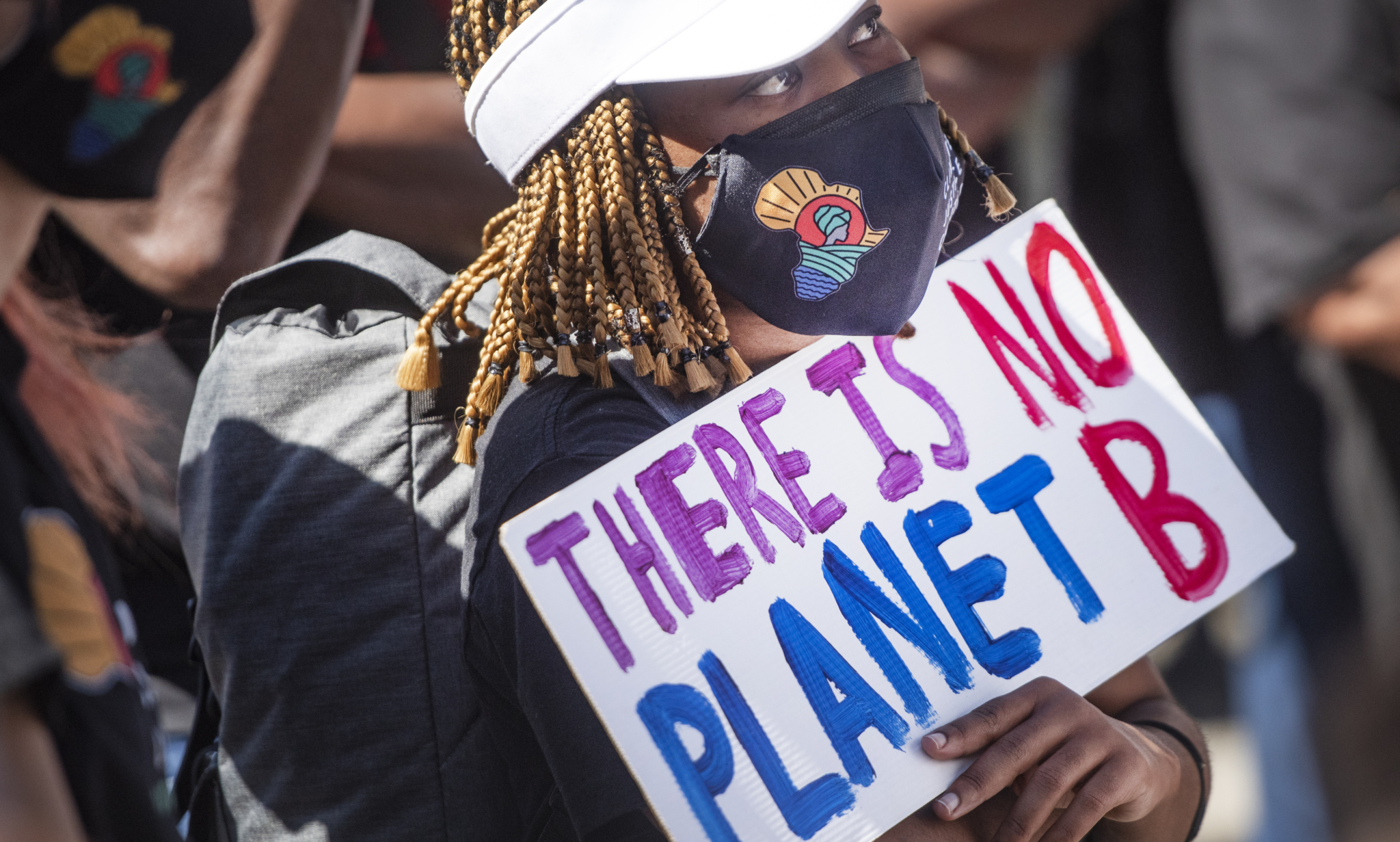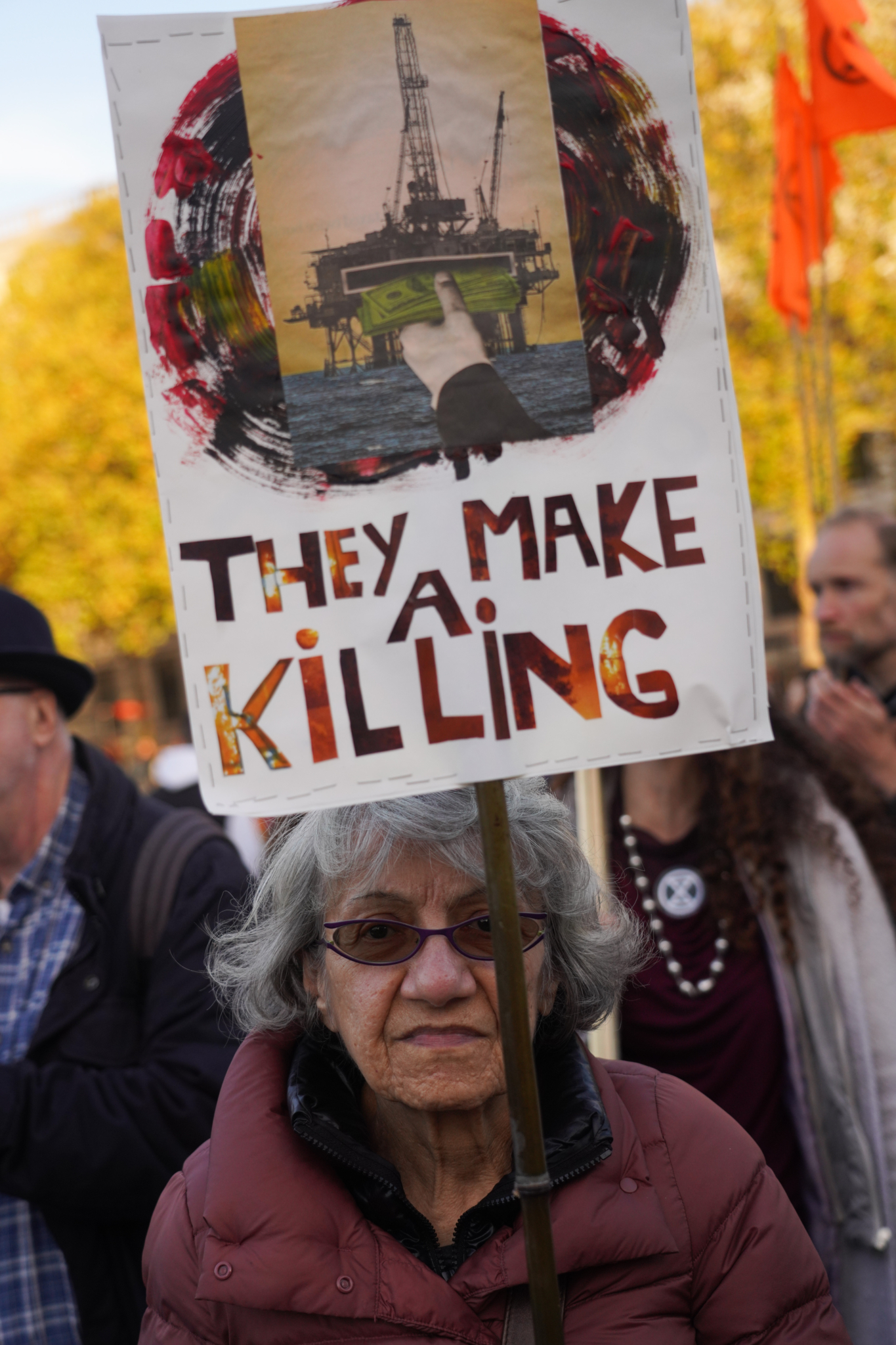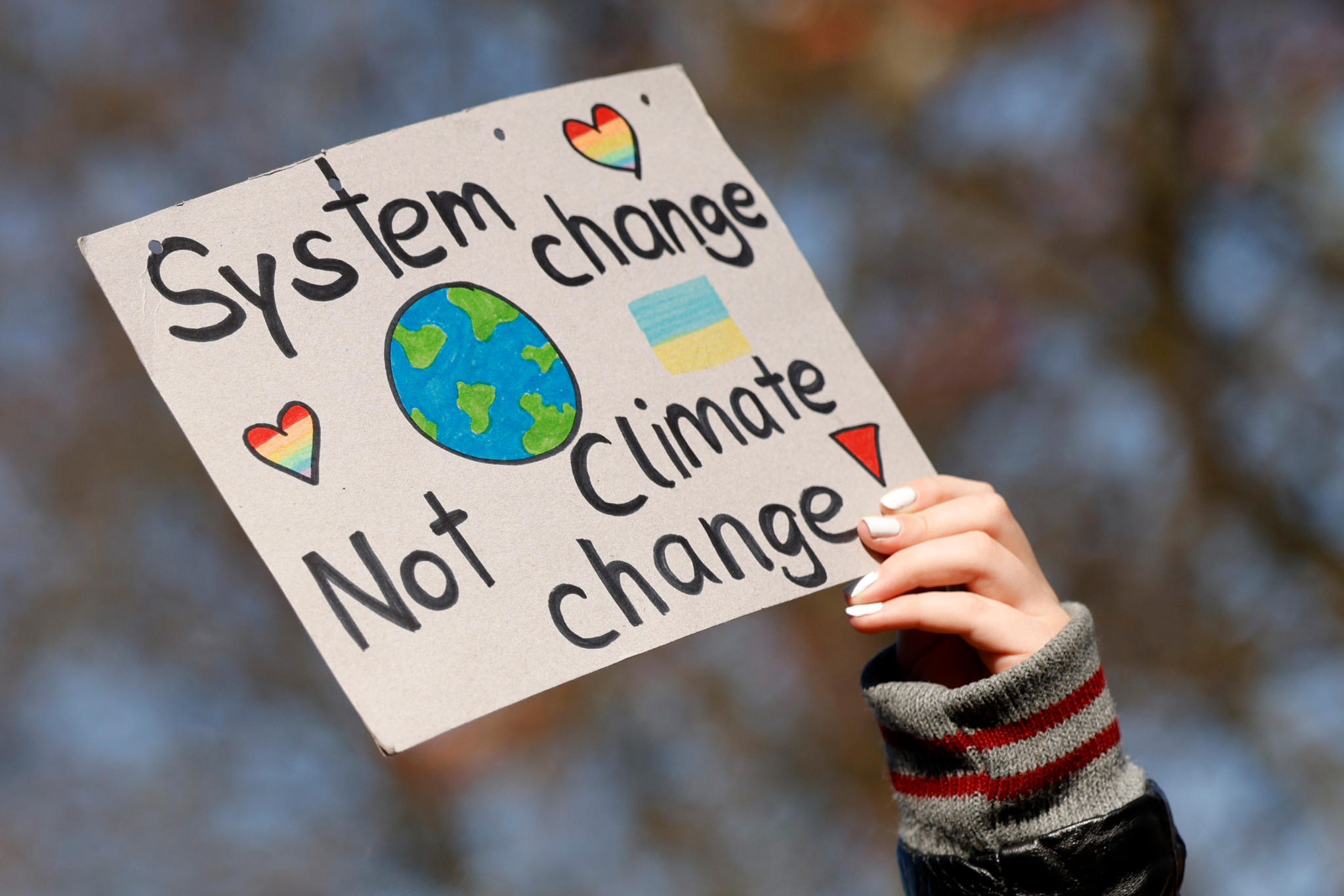 .
Get Creative!
The sky is the limit in terms of creative ways to attract attention, raise awareness, and grow our community of concern!
For public events or simply to create a photo op for posting on social media, paint the palms of your hands black to symbolize the environmental impact of fossil fuels. You may even want to paint your face. Post your photo on social media, with a message calling on Canada and Export Development Canada to stop bankrolling fossil fuels.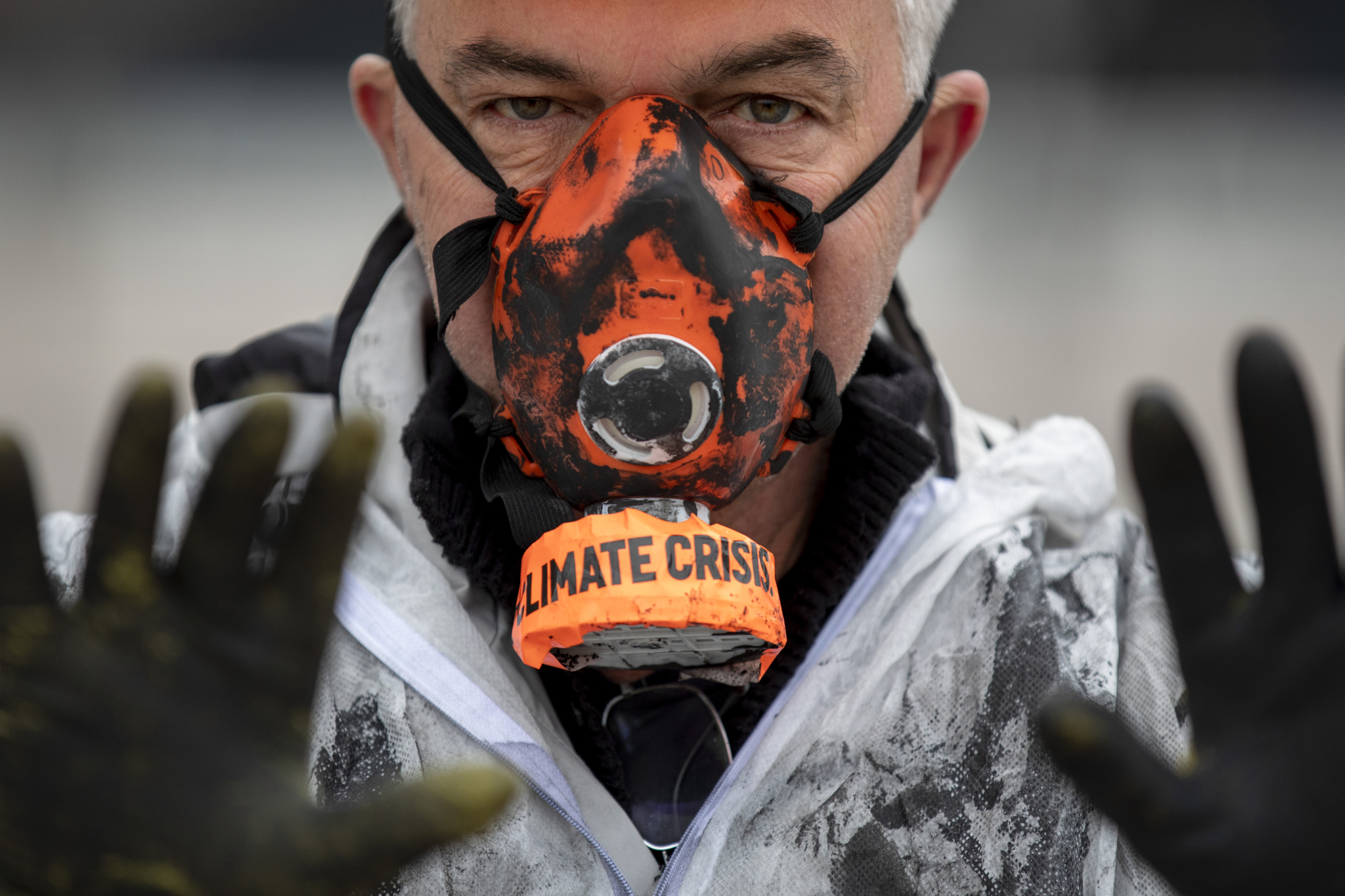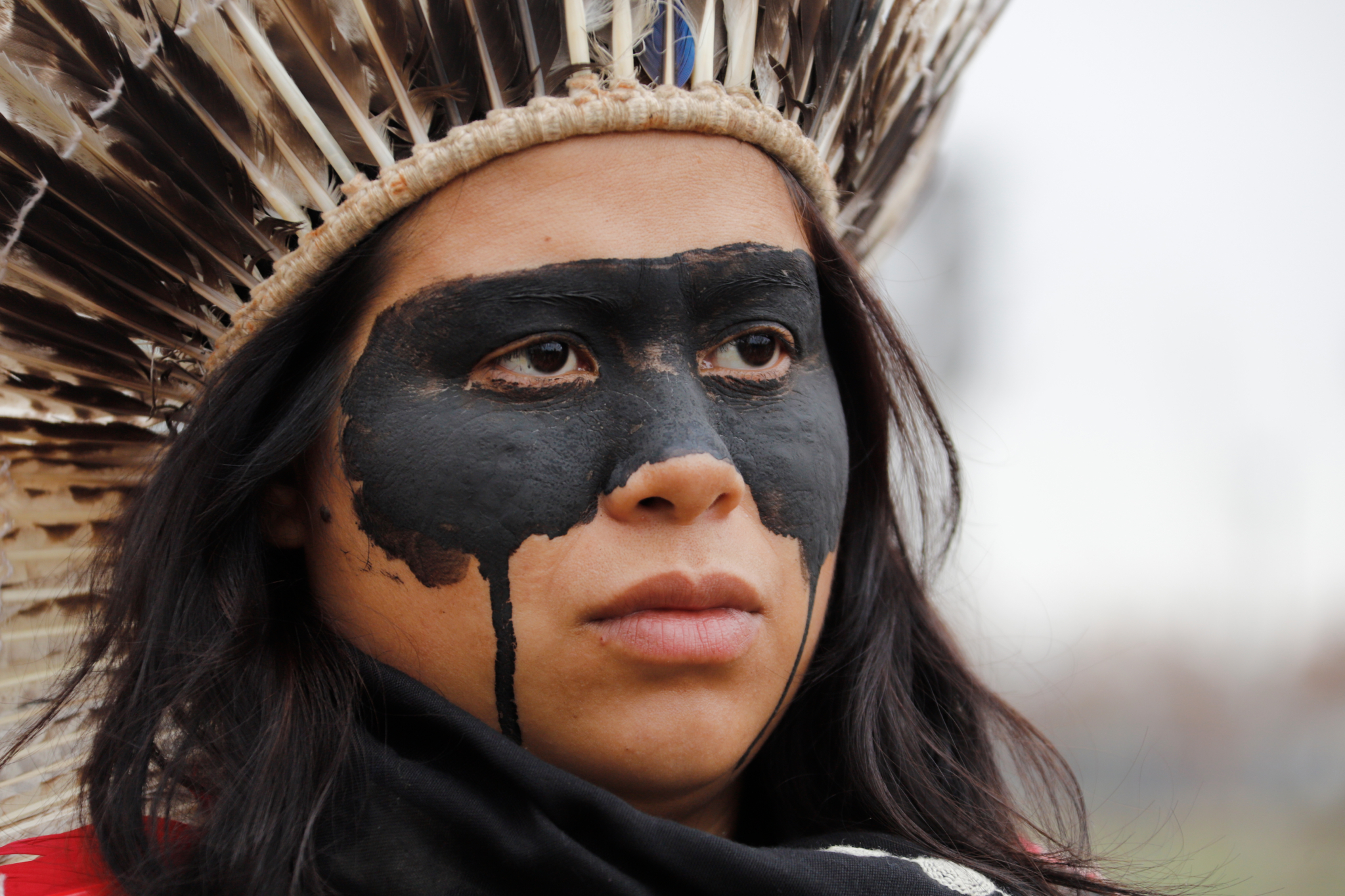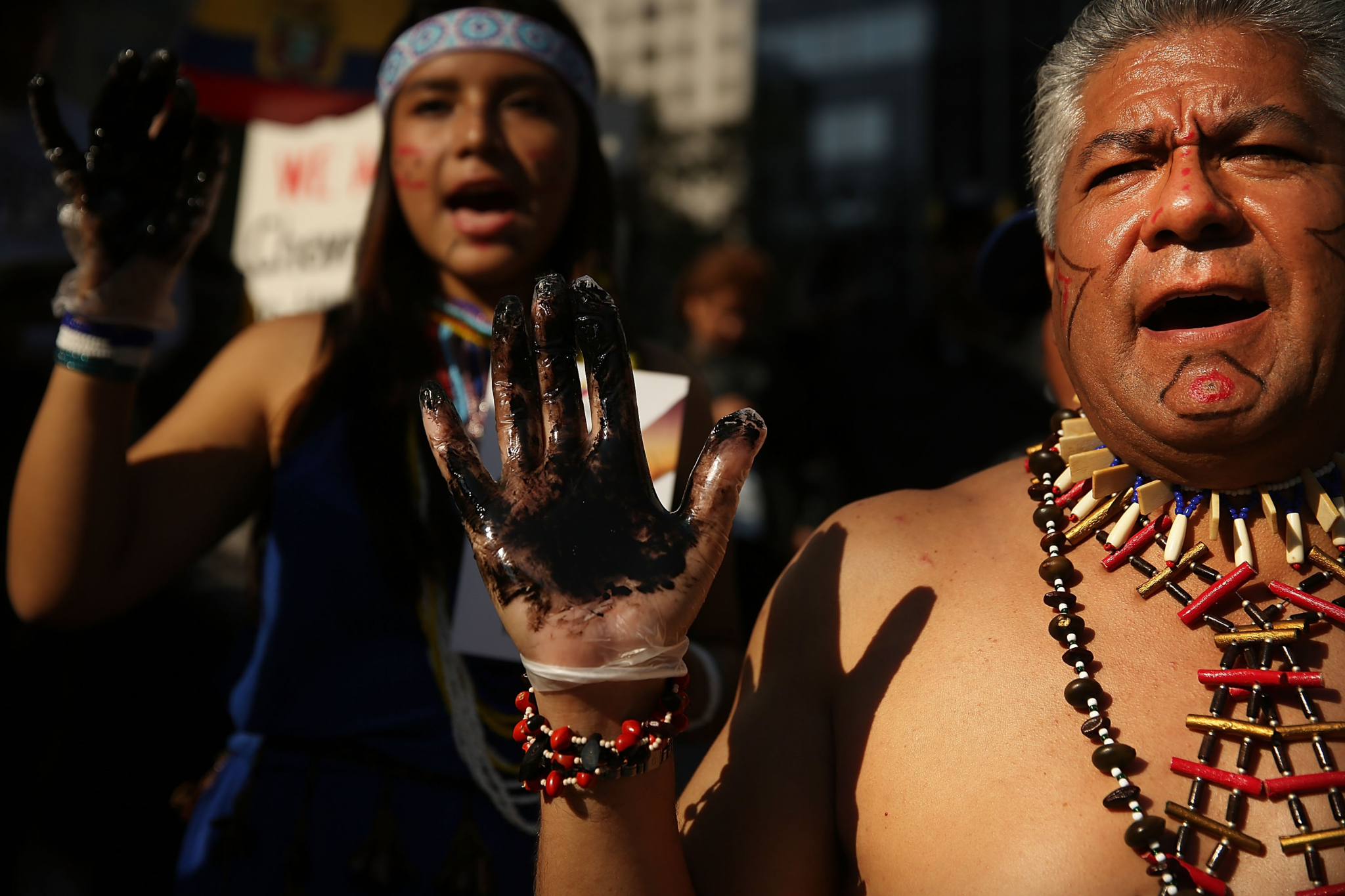 Use chalk to create messages in public spaces calling for climate action, climate justice and a just transition from climate destructive fossil fuels.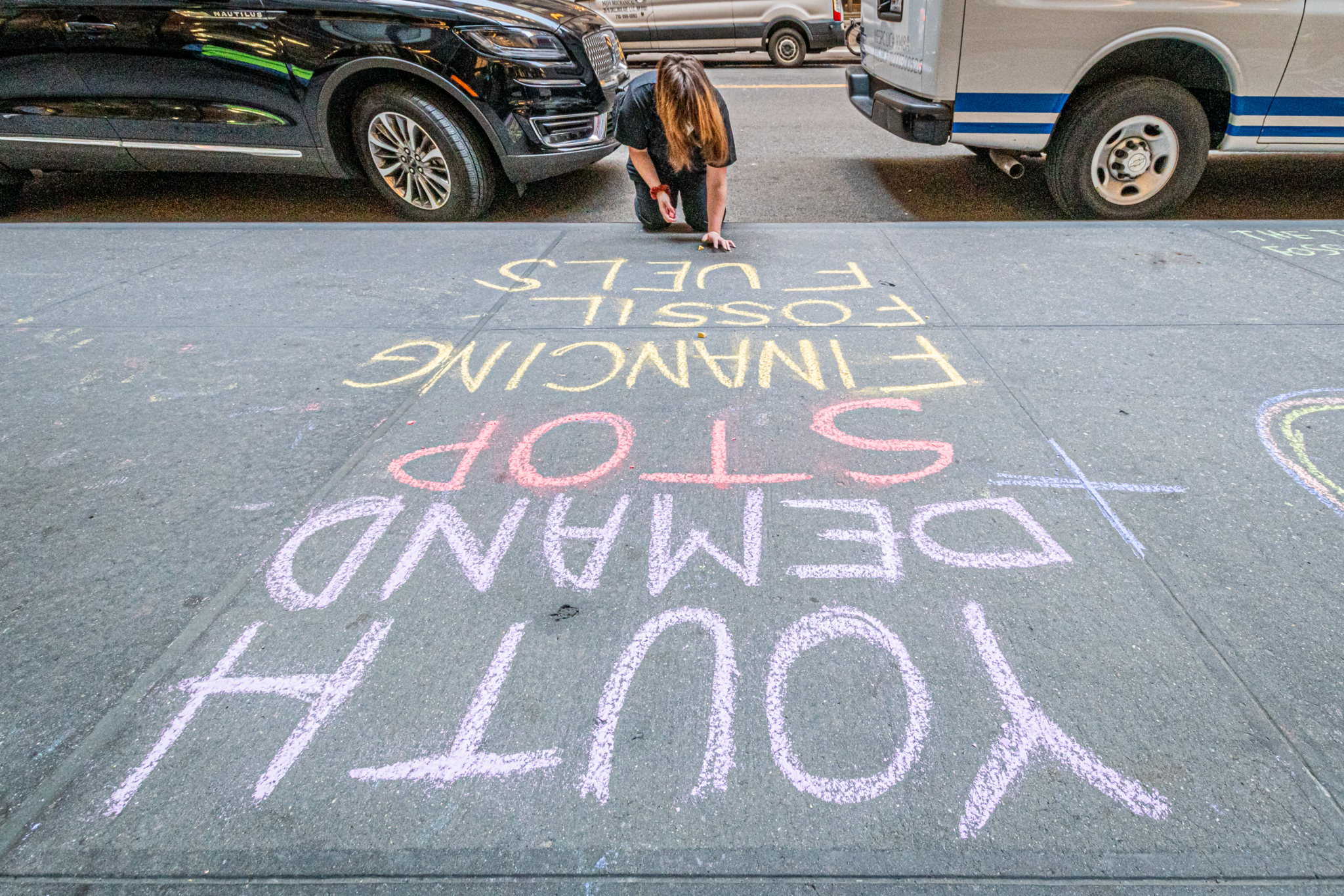 Organize a Community Rock Painting Event
Organize an event, like the one we organized outside the national office last September, to plant a tree and around it, create an eye-catching River of Solidarity with rocks that people painted with words and symbols to express solidarity with threatened defenders of land, Indigenous territory and the environment. In times of climate crisis, we need beauty, hope and community action. The rock painting event was all about that. Find a place you could display painted rocks in your community where they would be seen and could inspire others. Take photos and share them on social media.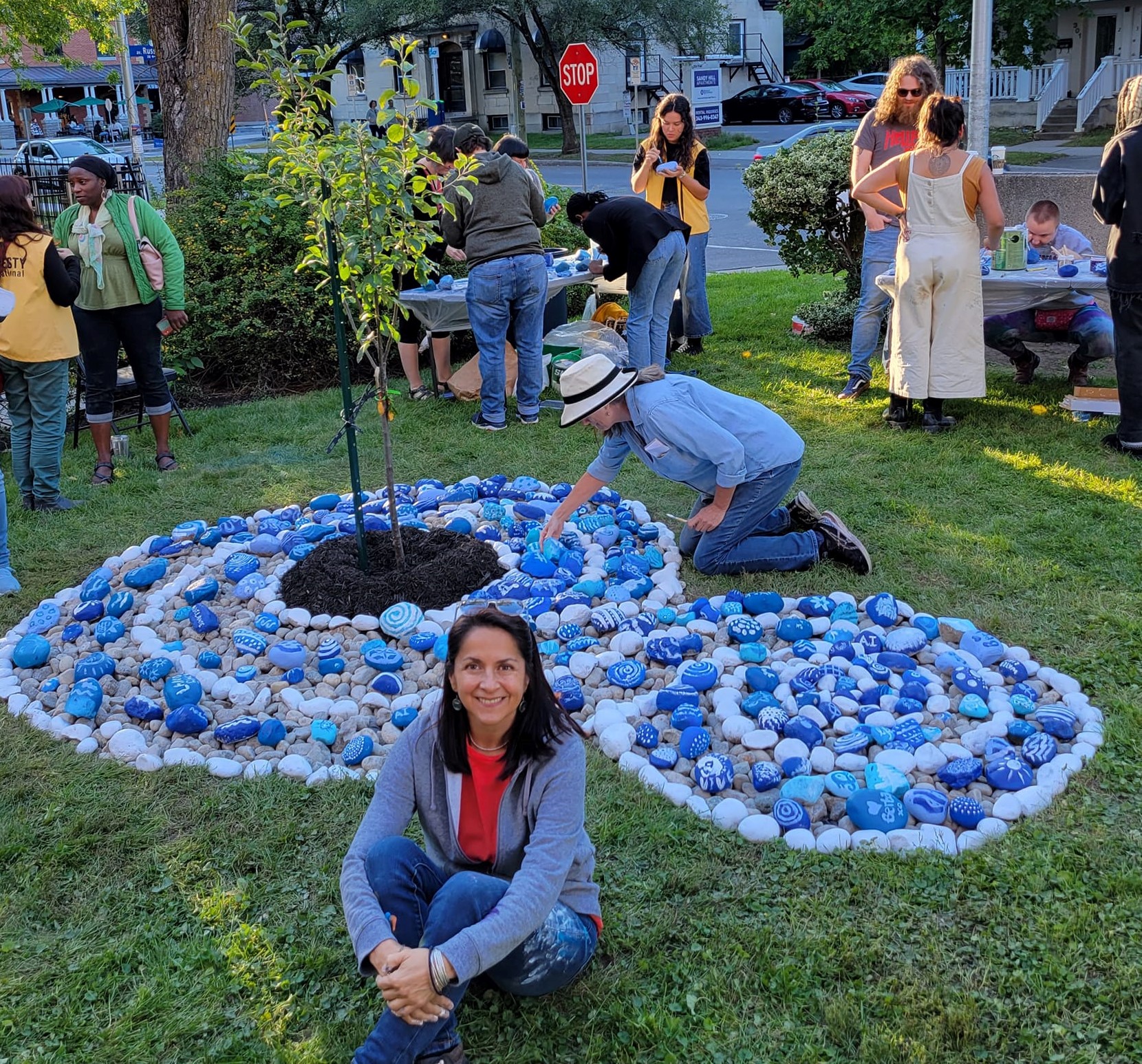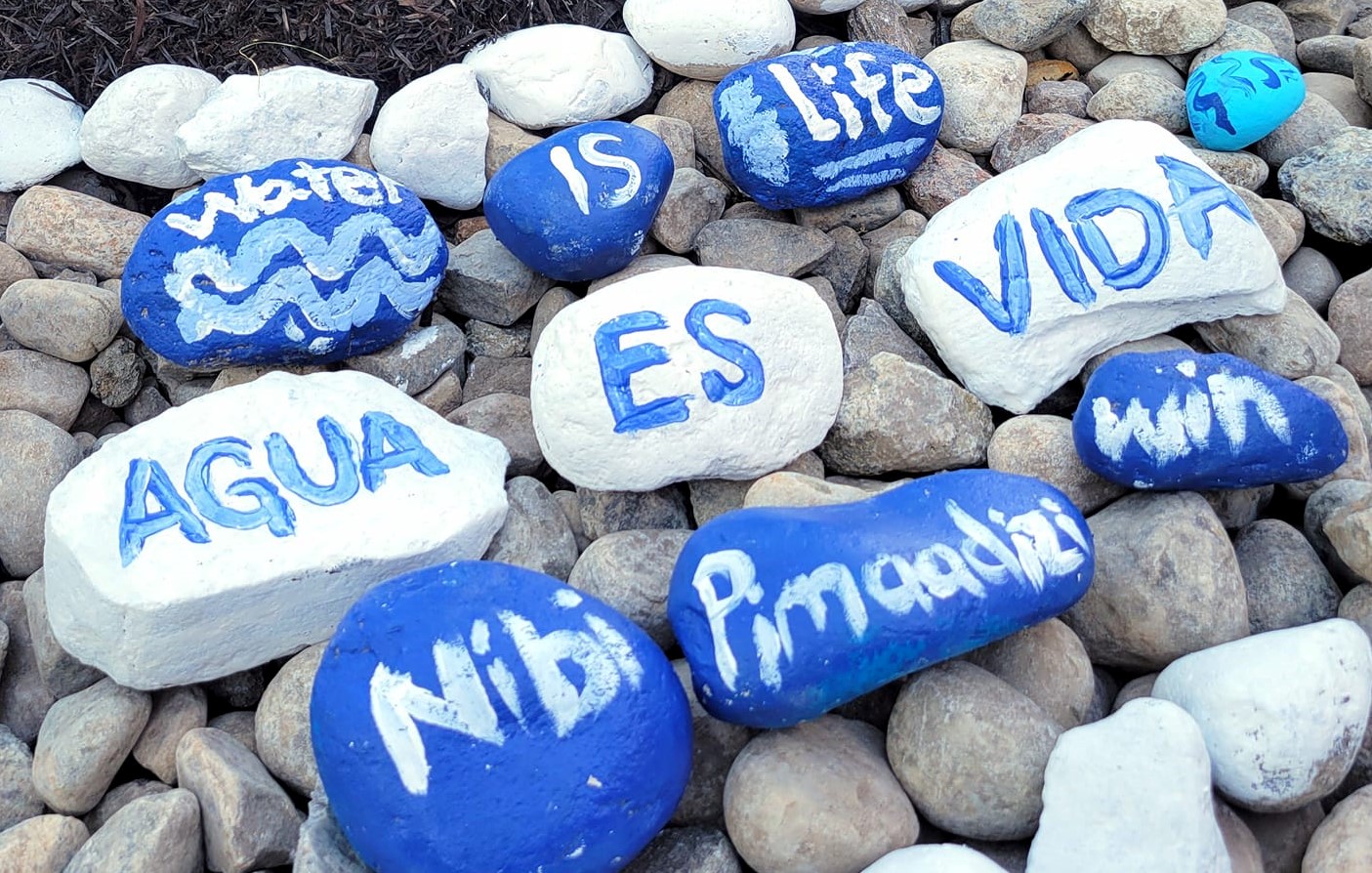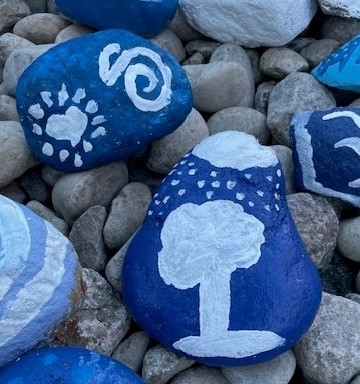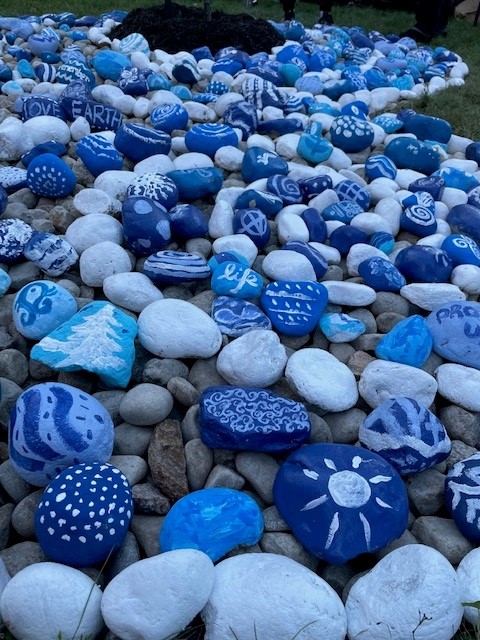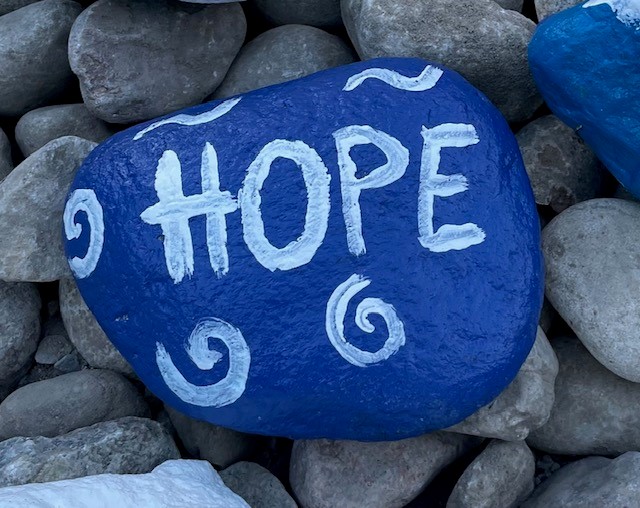 Media Action
Make sure to contact your local media to tell them about what you are organizing and seek coverage. Alternatively, write a letter to the editor to express your calls for action. If you need assistance or media advice, contact Amnesty's media officer via CRuf@amnesty.ca
Connect and Co-Create for Change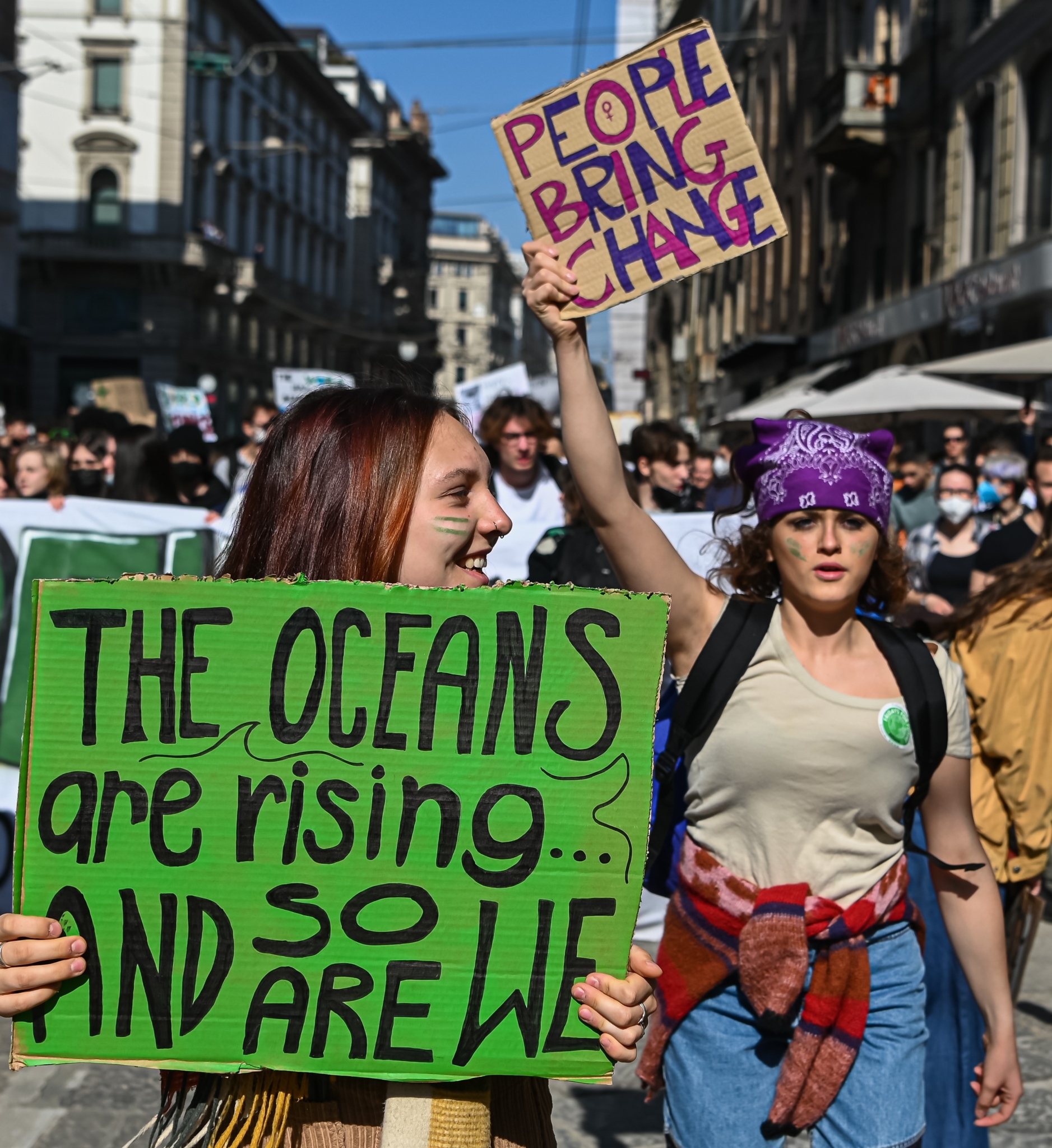 Looking to take action around Earth Day and beyond – as an individual or with your group? Join us on Monday, April 17 at 7 pm for an Amnesty Canada Activism Gathering. This is a space to hear more about our campaign goals, connect with other activists to share ideas and co-create innovative, community-centered initiatives for change!
Register here to reserve your spot and join the conversation!