The defenders of land, water, forests, Indigenous rights and a healthy environment are a beacon of hope in the ever more worrying climate crisis. Yet across our hemisphere, these defenders are under attack, especially when their efforts challenge the profits of powerful companies and their backers.
Our solidarity is urgently needed!
Amnesty Canada is mobilizing action via messages to the authorities, calling for guarantees that defenders can raise their voices in defence of the rights of their communities without fear of harm. Scroll down for the actions you can sign and share. More voices will ensure a greater impact!
We are also making visible our solidarity with land and water defenders in order to draw attention to the need for action to guarantee their safety. You can help! Here's how!

In the Ottawa area?
Come to our community action event outside the Amnesty office on the afternoon of September 24. Hear the inspiring words of defenders from across our hemisphere and help us unveil a new tree that honours a call made to us by our allies at the Civic Council of Popular and Indigenous Organizations in Honduras (COPINH), the organization founded by murdered Lenca Indigenous rights and river defender Berta Cáceres. Together with community artist Claudia Salguero, we will paint stones to create a vibrant, eye-catching Living River of Solidarity that flows out from the tree to engage passersby.
Outside of Ottawa?
There are many ways to contribute to our efforts to make visible the need for action to uphold the right to a healthy environment AND the rights of those who are facing attack for seeking to protect Mother Earth.
Along with the "Living River" of stones around the Solidarity Tree outside our national headquarters, we are creating a virtual River of Solidarity. Your contributions can enable it to be vibrant, ever flowing and to communicate the power and commitment of our movement.
Find a stone that is about 6" in diameter.
Paint it blue, like a river. Be sure to use acrylic paint which will be weather-proof and not wash off with rain or snow.
On your stone, add a message via words, symbols or patterns that represent your feelings about Berta Cáceres and other defenders under attack; about nature, water, climate justice. It could be a phrase like "Water is Life" or "Climate Action Now". It could also be a single word like "Protect", "Care", "Connect", "Hope" or "Solidarity". Or it could be an image. These are just suggestions to get your creative juices going! Every stone will be beautiful and meaningful in its own way!
Take a photo of your stone. Upload your photo to this google drive. We will create a platform to make visible this River of Solidarity Stones and share them with COPINH and other defenders.
Find a public place to display your stone. A group of stones from others in your group or community, together with a sign explaining this initiative, will attract attention and others who may wish to join you.
NOTE: If you live near Toronto, London, Kamloops, Stratford or St Marys, there are groups that have planted solidarity trees with whom you can connect to join action events. Contact Elena Dumitru for details > edumitru@amnesty.ca
Speak up for the Environment AND Environment Defenders
Please help us create pressure to protect defenders of land, water and a healthy environment by clicking on the links below to send a message to the authorities. If you have already done so, be an influencer and encourage others to raise their voice! More messages will create a stronger impact. Need a print version for tabling? Email Kathy Price at kprice@amnesty.ca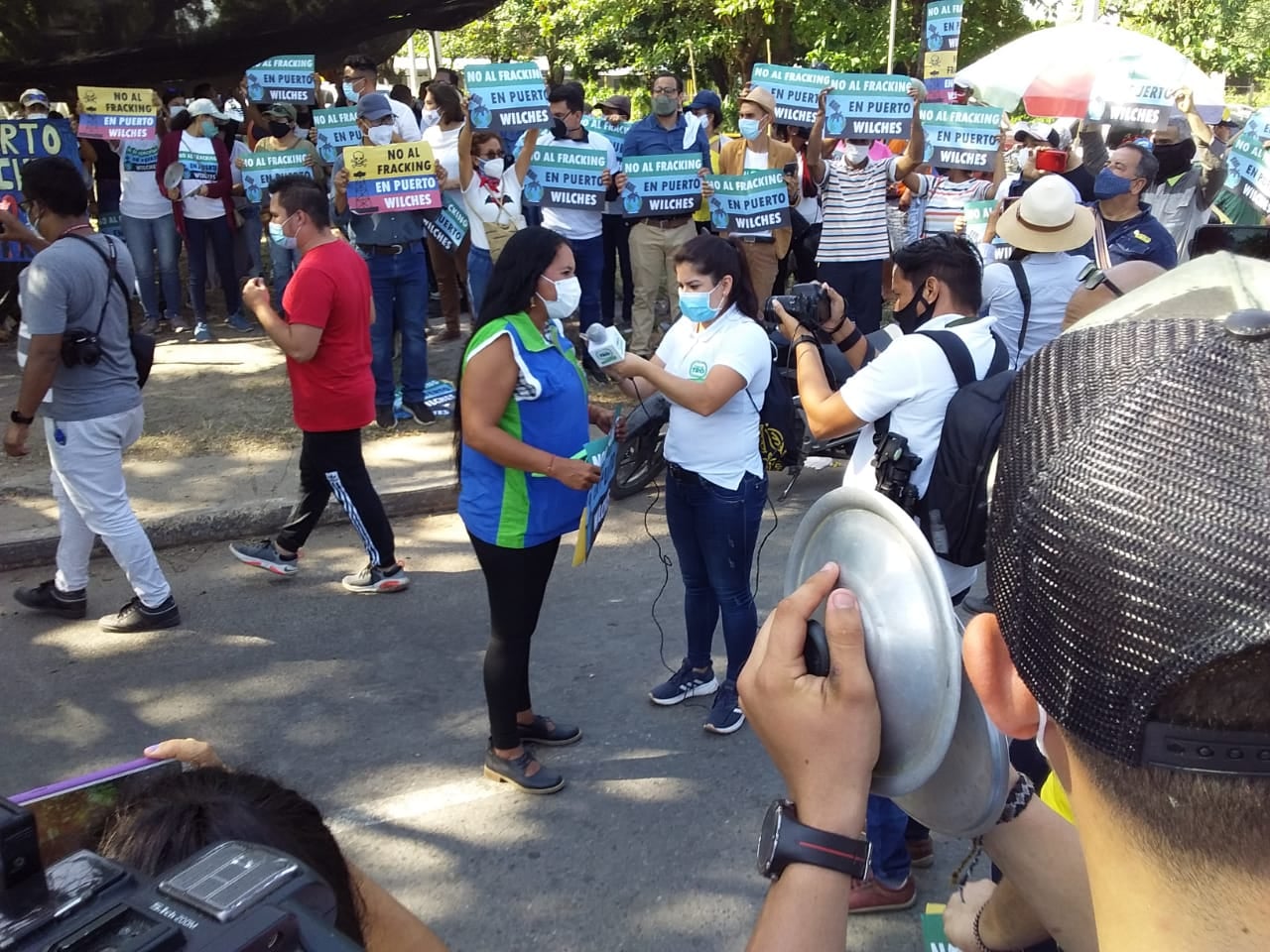 On July 5th, Yuli Velásquez, president of a federation that seeks to protect vitally important wetlands and water in the Magdalena Medio region of Colombia, thankfully survived an attack by assailants who shot at her. There have been death threats and dangerous attacks against other community leaders who speak out about the environmental impacts of fracking. Their lives are at risk.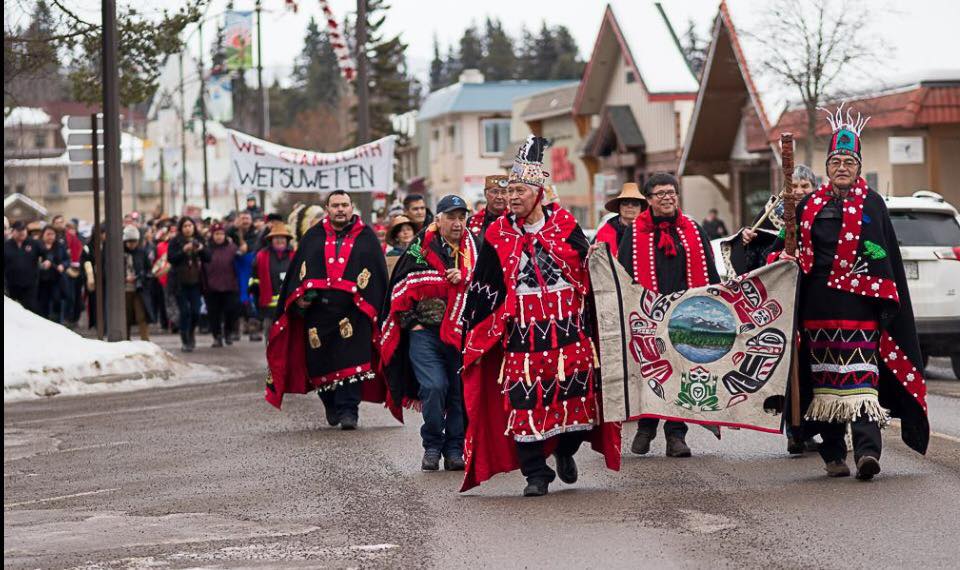 Wet'suwet'en land defenders in Canada oppose a liquified natural gas pipeline and have not given their consent to the project. Wet'suwet'en and other land defenders were subjected to several raids by heavily armed police and 15 people are currently facing criminal contempt charges for defying a court injunction. Wet'suwet'en Nation members report daily visits, harassment and intimidation by Canadian police officers and the pipeline company's private security.
RESPOND TO OUR URGENT ACTION NOW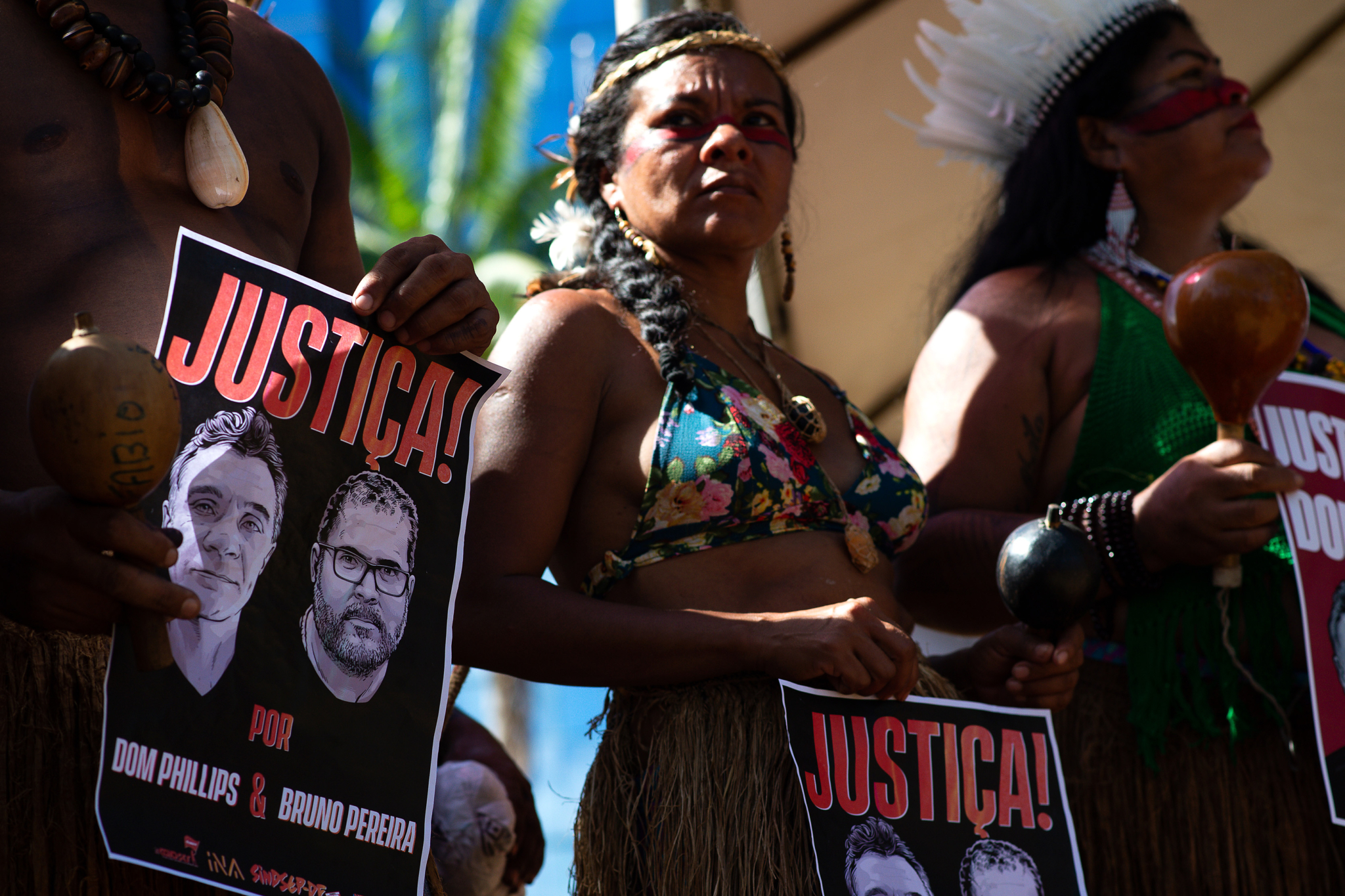 Indigenous rights defender Bruno Pereira and environmental journalist Dom Phillips were murdered in June during a fact-finding trip to a region of the Brazilian Amazon where Indigenous peoples' lands and rights are under vicious attack. As Amnesty Brazil's Jurema Werneck observes: "Brazil is one of the world's most lethal countries for human rights defenders and environmentalists, and this reality is the consequence of state policy that promotes attacks."
RAISE YOUR VOICE FOR MUCH NEEDED ACTION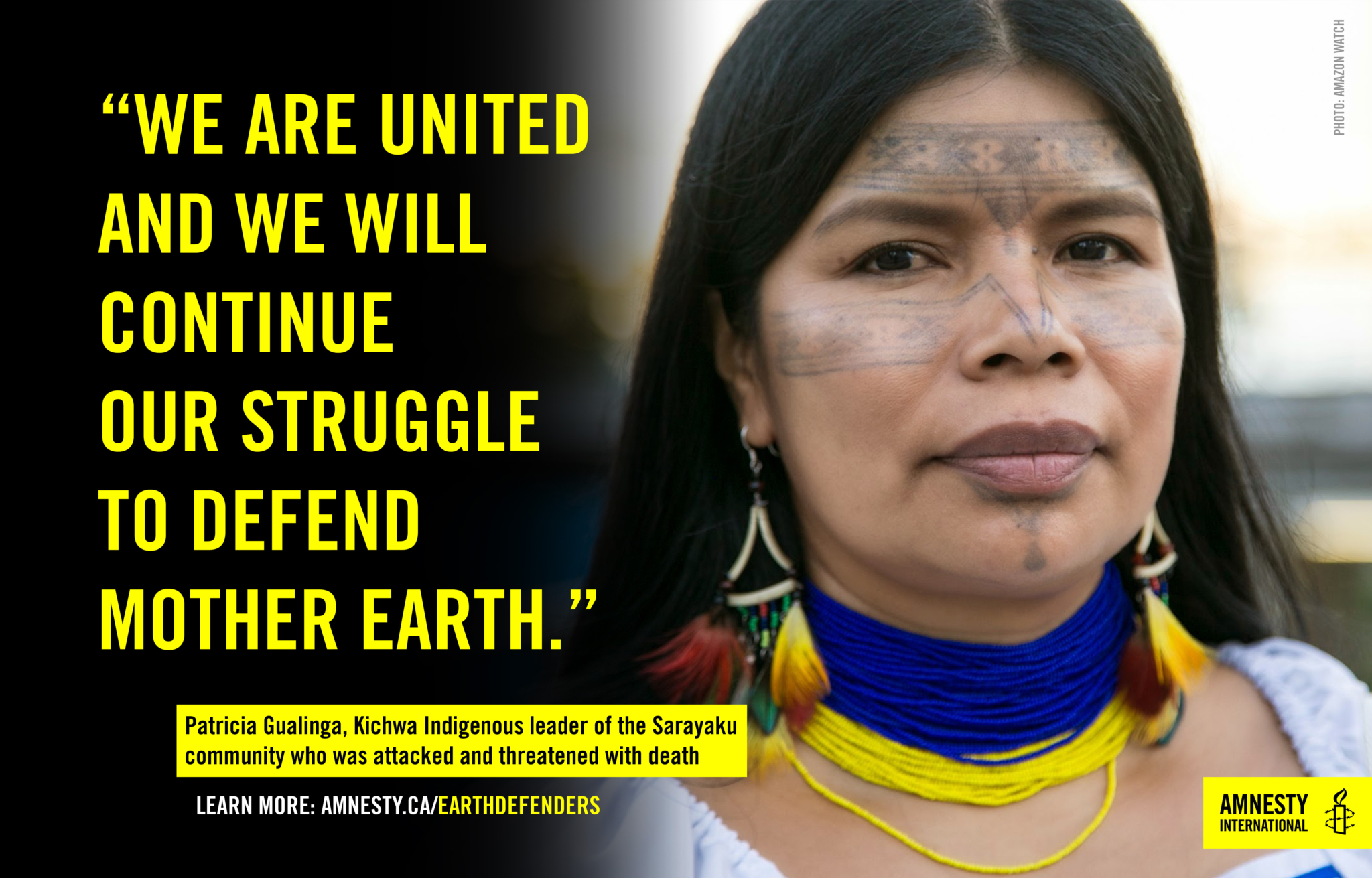 Ecuador signed the landmark Escazú Agreement that enshrines the right to a healthy environment, access to environmental justice and protection of environmental human rights defenders. Yet Patricia Gualinga (above, who spoke out our Earth Day webinar in April), and other women defenders of the Mujeres Amazónicas coalition, have yet to see authorities deliver on their commitments under the agreement. They have failed to provide effective protection. Nor have they brought to justice those who threatened and attacked the women as they sought to stop harms from resource extraction.
TAKE ACTION TO PROTECT THE ENVIRONMENT AND ENVIRONMENT DEFENDERS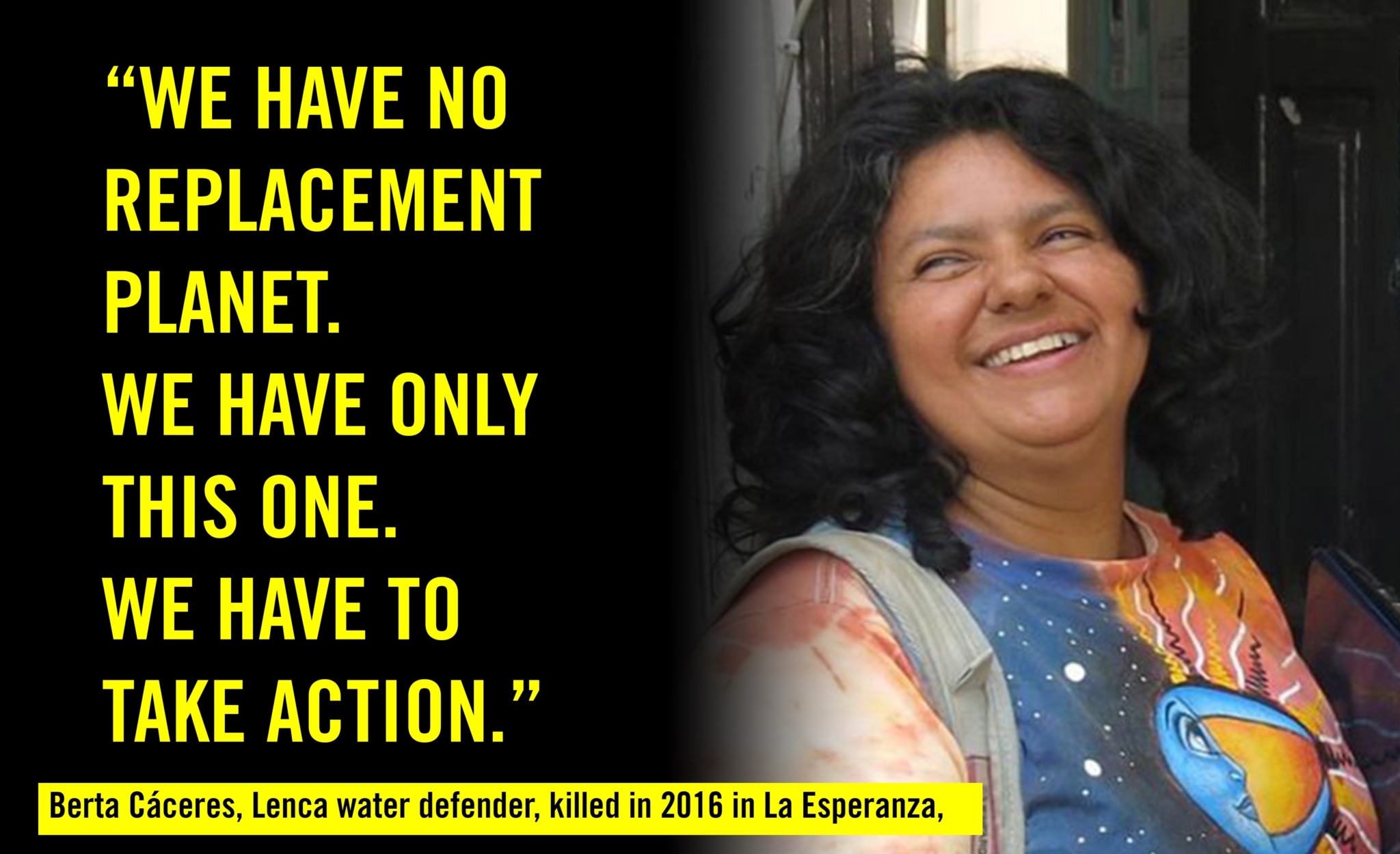 Attacks on defenders of rivers, forests and Indigenous territory in Honduras skyrocketed following a coup in 2009, which cleared the way for the perpetrators of such crimes to escape justice. That's why our campaign in collaboration with the Civic Council of Popular and Indigenous Organizations of Honduras (COPINH) is so important. It's a campaign to press for the truth and justice in the iconic case of beloved COPINH coordinator Berta Cáceres, murdered in 2016 to silence her leadership of efforts by Lenca Indigenous communities to stop the damming of the Gualcarque River.
In June, we hailed a victory when an executive of the company building the dam was sentenced to more than 20 years in prison as a co-author of the murder of Berta. But there is evidence that other powerful people were involved.
CALL FOR JUSTICE FOR THOSE WHO MASTERMINDED AND PAID FOR BERTA'S MURDER