Since returning to de-facto power in August 2021, the Taliban's relentless attack on human rights has targeted critics, ethnic and religious minorities, and decimated the rights of women and girls to such an extent that no part of their daily lives is free from discrimination. The UN Special Rapporteur on Afghanistan reported that this attempt to erase women and girls from society may amount to crimes against humanity.
Amnesty International conducted three investigations on mass killings of Hazaras by Taliban forces – in Ghazni province, Ghor province, and Daykundi province – which may amount to war crimes. Peaceful protesters face arbitrary arrests, torture and enforced disappearance. Institutions designed to support human rights are severely limited or have been shut down. Almost all institutions set up to address gender-based violence under the former government were also shut down by the Taliban. Impunity is widespread for crimes such as torture, revenge killings and forced evictions of opponents of the Taliban.
Detained for criticizing the Taliban
In recent months, the Taliban have been targeting women's human rights defenders, academics and activists for unlawful detention. Many have been arbitrarily arrested, with no legal remedy or access to their families. They are believed to have been detained for publicly criticizing the Taliban's policies.
Those arrested recently include Narges Sadat, a women's rights defender; Professor Ismail Mashal, a campaigner for women's education (later released); Fardin Fedayee, a civil society activist; Zekria Asoli, an author and activist; Mortaza Behboudi, an Afghan-French journalist; former senator Qais Khan Wakili; and Afghan journalist Muhammad Yar Majroh. In many cases of detention, no information is provided regarding the reason for the individual's arrest and their whereabouts often remain unknown, which amounts to enforced disappearance.
I don't want Afghan women to be a part of history. We need everyone to be the voice of Afghan women, calling for their safety and security.  

Shukria Barakzai, Former member of Parliament and Former Afghan Ambassador to Norway
TAKE ACTION
Write a letter calling for the immediate and unconditional release of education activist Matiullah Wesa who was arbitrarily arrested by the Taliban's General Directorate of Intelligence (GDI) on 27 March 2023, while returning from evening prayer at the mosque. Following the arrest, the GDI raided his house the next day and confiscated his personal mobile and laptop. On 29 March, the Taliban spokesperson confirmed his arrest, accusing him of illegal activities. His family have not been allowed to visit him and there has been no avenue to challenge the legality of his detention.
Sign and share our online petition calling on the Taliban de-facto authorities to respect and guarantee protection of human rights in Afghanistan. A paper version of the petition can be downloaded here for use in tabling. Each signature will show the Afghan people that we stand in solidarity, and that we will continue to demand the international community do more to hold the Taliban accountable for these human rights abuses.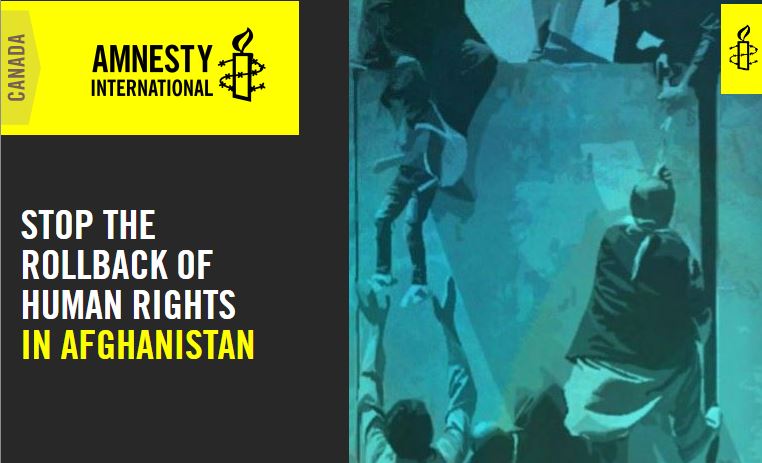 Afghanistan is the only country in the world to officially bar girls from secondary education. Amnesty Canada is supporting the Canadian Women for Women in Afghanistan's (CW4WAfghan) campaign on girls/women & education in Afghanistan #LetHerLearn. Check out the toolkit here.
Show your solidarity on social media
Share the images on this blog, use the suggested tweets below or write your own messages with the hashtag #SpeakUpForAfghanWomen
protect the rights of women and girls in Afghanistan
The Taliban's denial of human rights to women & girls of Afghanistan is an attempt to erase them from the society. Ask the Taliban to protect rights of women and girls to freedom of expression, association and peaceful assembly. #SpeakUpForAfghanWomen
education is a human right
Afghanistan is the only country to have placed a de facto ban on girls' secondary education. Call on the Taliban to respect and guarantee protection of women and girls in Afghanistan. #SpeakUpForAfghanWomen
hold the taliban accountable
Even as the brave Afghan women continue to demand for their most basic rights, it is time for the International community to step up efforts in putting pressure on the Taliban to stop discrimination and violence against women. #SpeakUpforAfghanWomen
Learn More
Wahida Amiri, a Member of Afghanistan's Women Spontaneous Movement, on Women, Protest and Power- Confronting the Taliban.
Amnesty's October 2022 briefing: Death in Slow Motion: Women and Girls Under Taliban Rule
Amnesty's recent statements:
Afghanistan: UN Human Rights Council must address Taliban's ongoing 'relentless abuses' (March 5/23)
Afghanistan: Alleged rape by Taliban members must be investigated and prosecuted immediately (March 10/23)
Get more involved in our work on Afghanistan
Contact Hilary Homes, Crisis and Tactical Campaigner at the national office: hhomes@amnesty.ca.

Grab some more graphics for your work!