Since the launch of Amnesty International and Human Rights Watch's joint campaign, British Columbia, Nova Scotia, Alberta, and Manitoba have all committed to ending immigration detention in their provincial jails. Activists like you helped to make this happen – thousands of people wrote to governments to share their concerns about Canada's discriminatory and harmful immigration detention system. Provincial governments are answering your calls by ending their involvement in the system and calling on other provinces to join them.
But the fight is not over yet, and harms continue every single day in Canada's discriminatory and deadly immigration detention system, in which at least 17 people have died since 2000. Tragically, another individual died in immigration detention on December 25, 2022, and an inquest is currently ongoing for a man who died while in immigration detention in a provincial prison in Ontario.
We need your help; please join us in calling on the Federal government to end immigration detention in all provincial jails in Canada. You can follow the link to sign a letter addressed to – or tweet at – Prime Minister Justin Trudeau (@JustinTrudeau) and can encourage others in your networks to take similar actions. If you would like to personalize it, feel free to copy and paste the text and make your own changes and additions.
Looking to do more? After signing the online e-action, you can organize a letter writing or social media posting event with your friends, family, and/or community or school group. You can use the template for the letter addressed to Prime Minister Trudeau and/or write to your MP to express your concerns and encourage them to get on the path to ending immigration detention by immediately ending immigration detention in provincial jails. Some main points to consider including:
Amnesty International and Human Rights Watch published a joint report, ("I Didn't Feel Like a Human in There": Immigration Detention in Canada and its Impact on Mental Health), which documented serious human rights violations against people detained for immigration purposes, particularly racialized people and people with mental health conditions. People in immigration detention are not held on criminal charges or conditions, but experience some of the most restrictive confinement conditions in Canada.


Immigration detention has devastating and long-term impacts on people who are detained, as well as on their families and loved ones. People can be detained indefinitely, and many develop suicidal ideation as they lose hope, particularly those who fled persecution in search of safety and protection in Canada. When parents are incarcerated in immigration detention, they may be separated from their children, causing further trauma and harm.



BC announced it was ending immigration detention in its provincial jails, citing human rights concerns. Since then, Nova Scotia, Alberta, and Manitoba have all announced they would end immigration detention in their provincial jails. The federal government has the sole legal responsibility for immigration detention, and as such, has the authority to end the practice across the country.
Looking to learn more about the devastating impacts of immigration detention? Hear directly from individuals who have experienced immigration detention via Shadows of the North.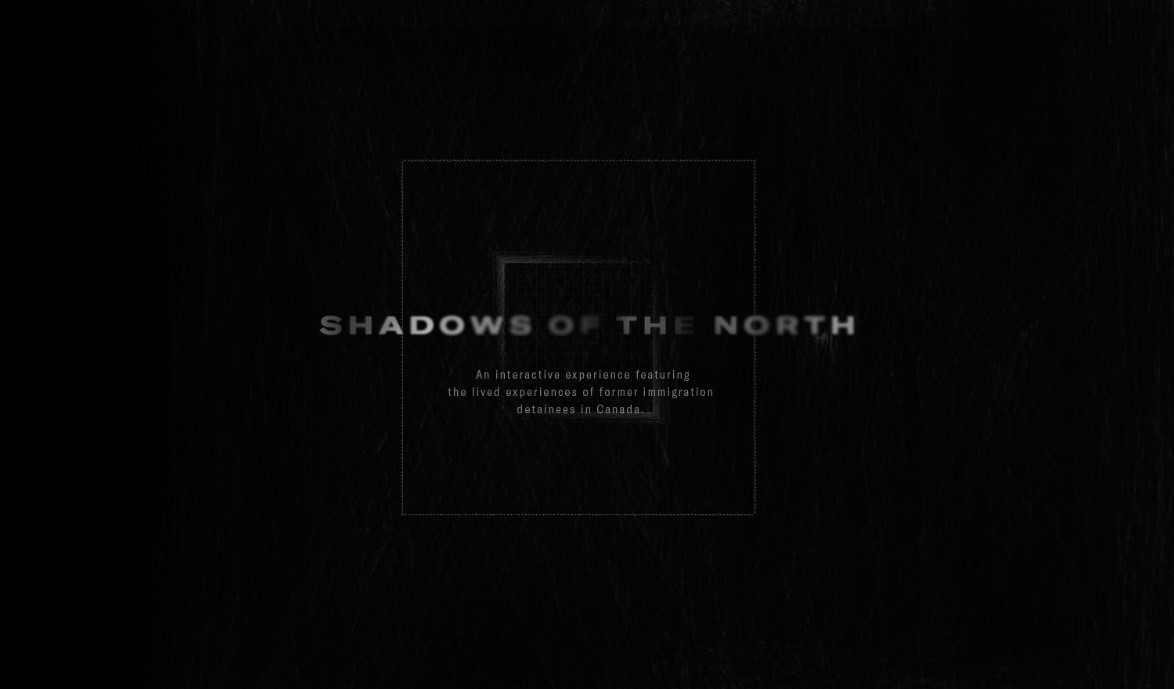 Shadows of the North
A guide for Sharing the Powerful Interactive Experience
The Experience:
Shadows of the North is a reflection of experiences with immigration detention in Canada. Through the mechanics of generative art, the artists achieve an echoing of the discord between hopeful anticipation and lived experience. Shadows of the North explores many aspects of immigration detention, including dangerous conditions in provincial jails, solitary confinement, and indefinite detention. Commissioned by Amnesty International Canada (English Section), Supernova Arts Collective curated and directed the artistic content in consultation with researchers from Amnesty International and Human Rights Watch.
Experience Shadows of the North
Most of the testimonies, quotations and informational text in Shadows of the North are taken directly from Amnesty International Canada and Human Rights Watch's joint report 'I Didn't Feel Like a Human in There: Immigration Detention in Canada and Its Impact on Mental Health'.
For most of the testimony in Shadows of the North, voice actors substituted the voices of immigration detainees. The voices try to honour the region of origin for each individual story. Human rights violations often happen at the margins of visibility, but, as writer and activist Rebecca Solnit wrote in her book Hope in the Dark, "…the power comes from the shadows and the margins… our hope is in the dark around the edges."
The Opportunity:
These testimonies and stories, the injustices, and the hope must be passed along to other Canadians. Here are some ideas for how you can share Shadows of the North:
Experience Shadows of the North with others at your local Amnesty meeting.
Hold an event in your community, with friends, family or others.
Share Shadows of the North in an educational setting if you are a teacher, student, librarian, or anyone in a role that involves learning
Send the Shadows of the North experience to your local Provincial or Federal elected representative. Share your thoughts with them and ask them to respond.
Send Shadows of the North to your favourite online media source. Ask them to distribute widely via their platform.
Share widely on social media.
Maybe you have other ideas. We would love to hear them and we would be thrilled to hear what action you decided to take. You can email afry@amnesty.ca if you have any comments or questions. You are also welcome to join the Amnesty Canada Immigration Detention Specialized Team. Contact: edumitru@amnesty.ca.
IMPORTANT: When sharing Shadows of the North on social media please give credit to the artists as: Created by @supernova_art_collective.