The death in detention of 22-year-old Jina Mahsa Amini on September 16, 2022, following her violent arrest by Iran's "morality" police sparked the unprecedented Woman Life Freedom popular uprising in Iran. The crackdown was swift and brutal: hundreds of protesters were killed, thousands injured, and over 20,000 arrested. To date, seven people have been executed for their involvement in the protests after fast-tracked trials and forced confessions. Dozens remain at risk of execution or being sentenced to death in connection with the protests.
As women and girls led the call for change in Iran, challenging decades of gender-based discrimination and violence, they became targets for arrest and retaliation.
Thousands of schoolgirls were poisoned in what appeared to be a coordinated campaign to punish them for peaceful participation in protests and acts of resistance such as removing their mandatory hijabs and showing their hair in public while in school uniform.
2X YOUR IMPACT
NEW FUNDING FOR WOMEN AND GIRLS IN IRAN
As the anniversary of Mahsa Amini's death in detention approaches, stand in solidarity with women and girls in Iran.
Mahsa Amini was targeted and arrested for not wearing a compulsory veil or hijab. Iran has reinstated "morality" policing and doubled down on enforcement of discriminatory and degrading compulsory veiling laws that severely impact the human rights of women and girls. The level of mass surveillance is shocking. Since April 2023, police have sent almost one million text warning messages to women photographed unveiled in their cars, issued 133,174 text messages requiring the immobilization of vehicles for a specific duration, confiscated 2,000 cars, and referred more than 4,000 "repeat offenders" to the judiciary across the country. Countless women have been suspended or expelled from universities, barred from sitting final exams, and denied access to banking services and public transport. Hundreds of businesses have been forcibly closed for not enforcing compulsory veiling.
They want to present themselves to the international community as moving away from violence but, in reality, they are carrying out these actions discreetly. They are truly creating fear in our existence.

A woman in Esfahan who received a ban for defying veiling

Not satisfied with the current law, judicial and executive authorities introduced a new draft "Bill to Support the Culture of Chastity and Hijab" targeting women and girls who appear in public or on social media without headscarves or "nakedness of a body part or wear thin or tight clothes." An extensive list of potential penalties includes fines, confiscation of cars and phones, driving bans, deductions from salaries and benefits, and dismissal from work. More serious cases face flogging, imprisonment for up to five years and travel bans.
Iranian authorities are desperately trying to reassert their dominance and power over those who dared stand up against decades of oppression and inequality during the 'Woman. Life. Freedom.' uprising. Instead of opening criminal investigations into unlawful killings and other abuses during protests, Iranian authorities have destroyed evidence and persecuted survivors and victims' relatives who called out for truth, justice, and reparation. In 2023, Iran is on track to execute over a 1000 people – double the previous year – as the death penalty is increasingly used as a tool of political repression.
The international community must hold Iran accountable
Amnesty International welcomed the establishment of a Fact-Finding Mission on Iran by the UN Human Rights Council in November 2022, yet much more is needed to combat the crisis of impunity for serious crimes in Iran – and to deter further cycles of bloodshed.
Amnesty International urges all states to consider exercising universal and other extraterritorial jurisdiction in relation to crimes under international law and other serious human rights violations committed by Iranian authorities, irrespective of the absence or presence of the accused in their territory. This includes initiating adequately resourced criminal investigations aimed at disclosing the truth about the crimes, identifying those suspected of responsibility, including commanders and other superiors and issuing, when there is sufficient admissible evidence, international arrest warrants. States should also contribute to achieving reparations for the victims.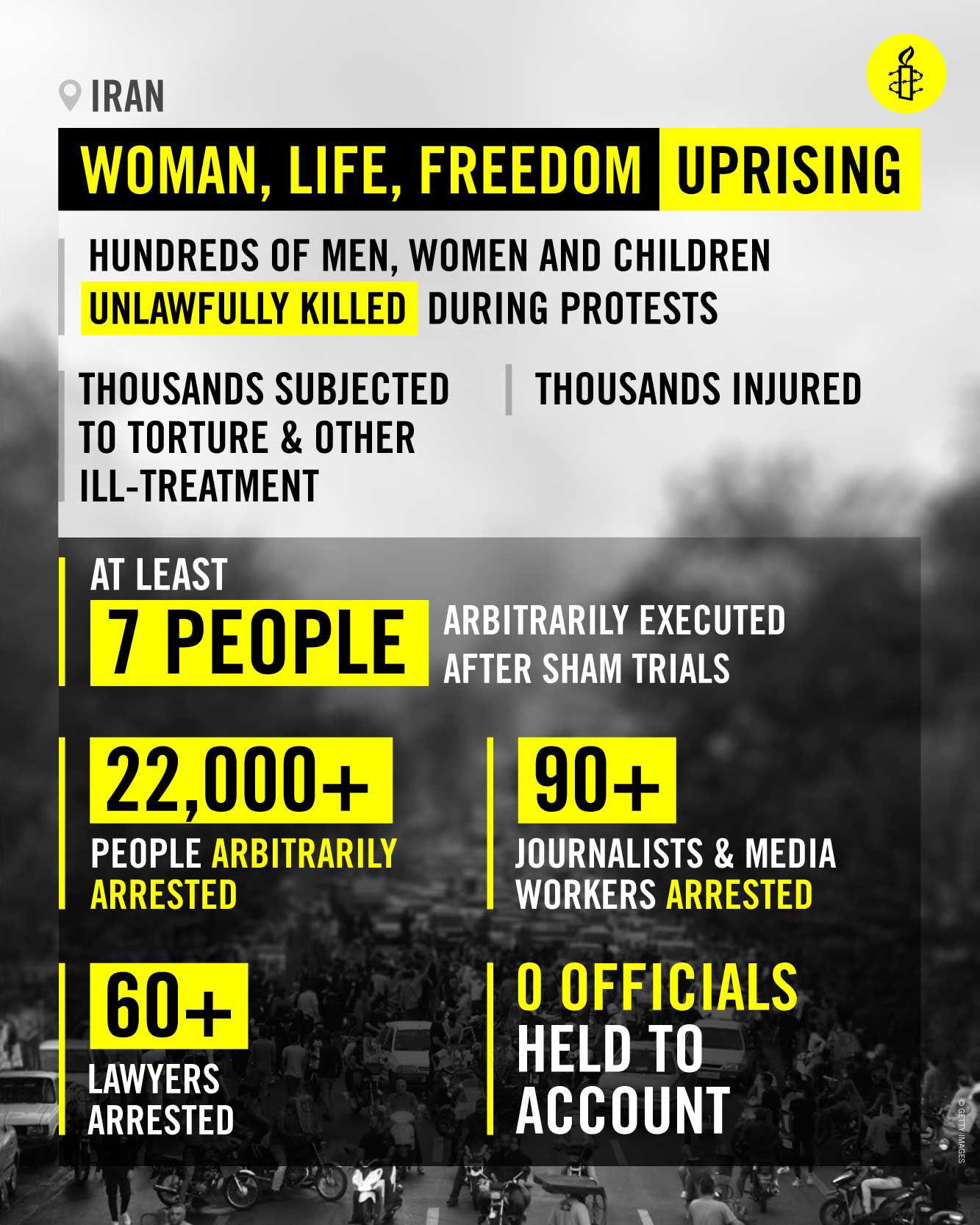 What you can do
Sign and share Amnesty's online actions:
Call on Canada to support survivors and victims of human rights violations in Iran.
Demand an end to schoolgirl poisonings in Iran.
Show your solidarity on social media using the hashtags #WomanLifeFreddom #MahsaAmini #ProtectTheProtest
Attend a protest rally in your area on September 16. Here's what is planned so far:
St John's: 12pm at City Hall
Montreal: 2pm at McGill University (Roddick Gates)
Ottawa: 11am National Gallery
Toronto: 3pm at Queen's Park (King Edward Equestrian statue)
Waterloo: 11am at University of Waterloo (South Entrance)
Windsor: 3pm at the Great Canadian Flag (Ouellette Ave at Riverside Dr)
Sudbury: 1:30pm at Bell Park (York St parking lot)
Saskatoon: 3:30pm at Kiwanis Memorial Park
Edmonton: 2pm at City Hall (Sir Winston Churchill Sq)
Calgary: 2pm at the Peace Bridge
Vancouver: 2pm at the Vancouver Art Gallery
These protest rallies are organized by the Iranian community in Canada. You'll see and hear many different messages from the groups in attendance. Bring your own messages of solidarity, calls for human rights and to protect the protest in Iran. Here are some sample phrases:
Say her name: Mahsa Amini
Women Life Freedom
Protect the Protest in Iran
Stop the execution spree in Iran
Forced Veiling Violates Human Rights
Stop Forced Veiling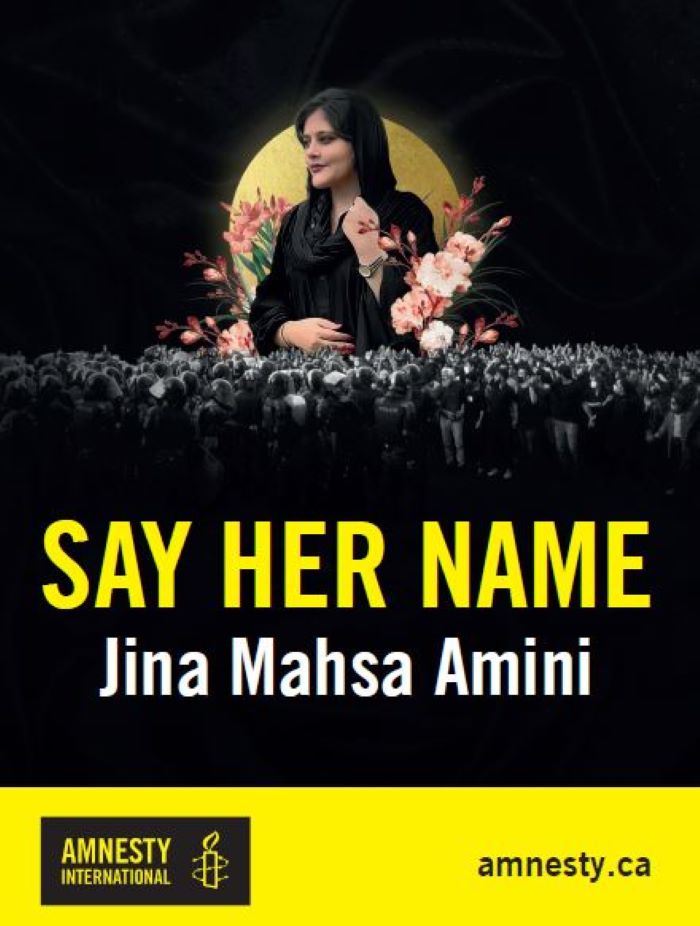 Top image: A street sign commemorating Mahsa Jina Amini is installed outside the former Embassy of Iran on Metcalfe street in Ottawa, June 2023 (c) private