Thank you to all who joined in the Day of Action for a Just Transition! Across the country, people took part in over 50 coordinated actions to tell the Prime Minister that they are tired of waiting for the government to fulfil its promise to ensure a Just Transition in Canada. Climate change is upon us and people in every corner of the country are rolling up their sleeves to tackle the greatest human rights challenge of our time. Climate action is being led by the people. It's time for those in power to find the political will and courage to join us!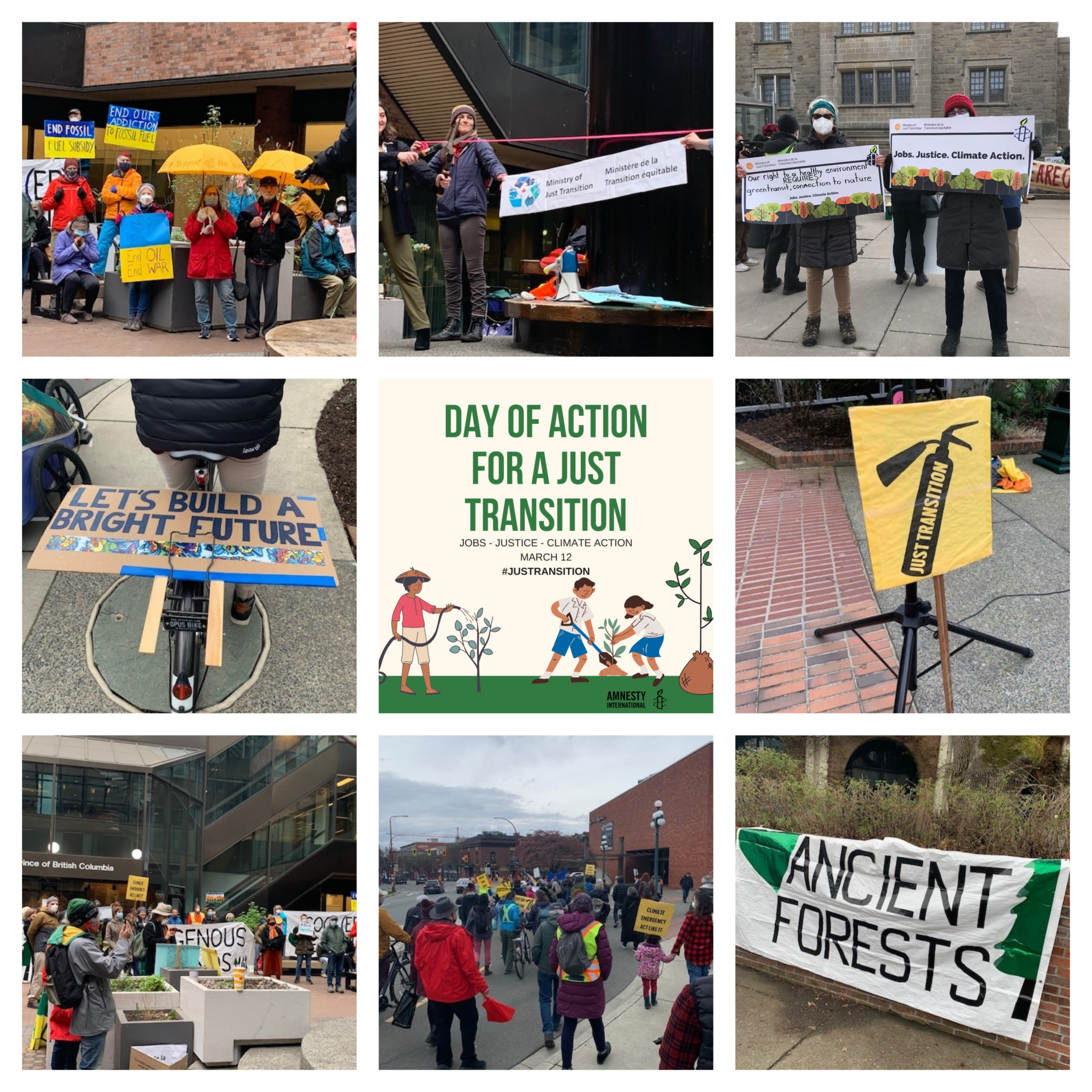 Want to do more?
The government is looking for the public's views on the best ways to carry out a just transition, with an emphasis on helping workers and communities thrive in a net-zero carbon economy.
The consultation is open until April 30, 2022: https://www.rncanengagenrcan.ca/en/collections/just-transition
To make the submission of views easy, 350.org has created a ready-made submission for you to sign and send: https://350.org/jta-consultations/.
If you want to make your own submission, these documents can help:
Here is what the government has already said:
https://www.rncanengagenrcan.ca/sites/default/files/pictures/home/just_transition_discussion_paper_-_en_-_july_15.pdf
You could refer to Amnesty's submission on Just transition to the UN Special Rapporteur on extreme poverty and human rights: https://www.amnesty.org/en/documents/ior40/2503/2020/en/
Amnesty's climate policy, Stop Burning Our Rights!, also contains vital analysis and recommendations for countries like Canada to address the climate crisis. Ending fossil fuel subsidies and financing, training workers in alternative energy production, ensuring clean public transportation in all our communities, and improving food security are some of the things Canada must do to ensure a just transition that respects human rights for all.