Human Rights in China
Human rights violations in China are widespread, touching many sectors of society.
China is a world leader with respect to the number of executions performed. The death penalty is not only imposed for violent crimes, but for some non-violent ones, as well. Statistics on death sentences and executions are classified. Judges decisions are open to political interference and trials do not come close to meeting international standards.
Harsh measures are taken against government critics, political activists and human rights defenders. They face harassment, intimidation, arbitrary and illegal detention, enforced disappearances, torture and even the possibility of death in custody as a result of their activities.
There is systematic repression of minority groups, including Tibetans, Uighurs, Mongolians, Falun Gong practitioners and Christians and those who practice their religion outside state-sanctioned churches. The authorities attempt to bring all religious practice under the control of the state.
Migrant workers face systematic discrimination, as well. Citizens are being forcibly evicted from their homes and farms, without adequate due process or compensation.
China's economic strength during the global financial crisis increased the country's leverage in the domain of global human rights – and not for the better.
Learn More
China: Anniversary of UN's damning Xinjiang report must be 'wake-up call' to action (August 31, 2023)
Remembering Tiananmen Square: the hidden history of China's protest movement (June 1, 2023)
Hong Kong: Case against 47 pro-democracy figures must be dropped as politically motivated trial begins (February 6, 2023)
Amnesty International has left Hong Kong but there will still be candles in the darkness (May 20, 22)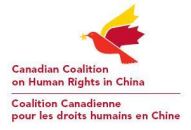 Canadian Coalition on Human Rights in China
Amnesty International Canada is part of the Canadian Coalition on Human Rights in China (CCHRC) along with Alliance Canada-Hong Kong, Canada-Hong Kong Link, Canada Tibet Committee, Canadian Labour Congress, Falun Dafa Association of Canada, Federation for a Democratic China, Raoul Wallenberg Centre for Human Rights, Toronto Association for Democracy in China, Uyghur Rights Advocacy Project, and Vancouver Society in Support of Democratic Movement.
The CCHRC has published two reports drawing attention to an organized and sustained campaign of intimidation and harassment aimed at activists working on China-related human rights issues in Canada. Some of these incidents involve cyberbullying, death threats, racist insults, and aggressive counter-protests organized in response to pro-democracy demonstrations. Many of these cases are clearly linked, either directly or indirectly, to Chinese state actors.
Download a PDF of the 2017 report (redacted version)
Download a PDF of the 2020 update
'Like' us on Facebook
Photo: At the Amnesty Canada AGM in 2008, Amnesty members marched to the Ontario Legislature wearing yellow sports bibs to demand that China Keep the Promise to improve human rights in the country as part of its Olympic bid. The march was followed by a rally at Queen's Park, with performers and speakers, including Rebiya Kadeer.